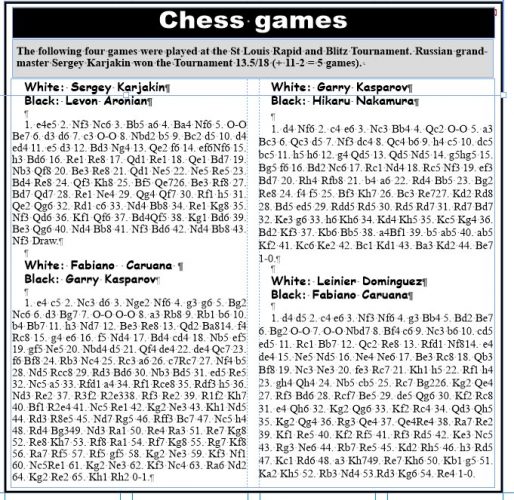 In his largely entertaining and insightful book,  Grandmasters of Chess Pulitzer prize winner and music critic/chess correspondent for the New York Times, Harold C Schonberg, tells us about the origin of the word grandmaster.


The title was formally conferred in Russia in 1914, at the great St Petersburg chess tournament by Tsar Nicholas 11. He named the five finalists of the St Petersburg tournament—Emanuel Lasker, Jose Raul Capablanca, Alexander Alekhine, Siegbert Tarrasch and Frank Marshall—grandmasters of chess. ….
To continue reading this article
Comments

The most accurate chess thinkers worldwide, the most prolific grandmasters in the world, 128 of them, began the 2017 FIDE World Cup with solid hopes of taking one of the two qualifying spots for next year's Candidates Tournament.

One of the selected aspirations of a chess grandmaster is to become a world chess champion.

You explain deep mysteries, because even the dark is light to you. – Daniel: 2:22 It was 45 years ago, that American Bobby Fischer, challenged Boris Spassky of the then Soviet Union, for the world chess championship title; today that story is still being repeated, analyzed and debated.

In 2005 when he retired from active competition, Russian Grandmaster and World Chess Champion Garry Kasparov was the highest-ranked player in the world.

At the St Louis Rapid and Blitz Tournament the chess world eagerly awaited the re-emergence of the former 13th world champion from Russia, Garry Kasparov.