The most accurate chess thinkers worldwide, the most prolific grandmasters in the world, 128 of them, began the 2017 FIDE World Cup with solid hopes of taking one of the two qualifying spots for next year's Candidates Tournament. Today, those two spots belong to Levon Aronian (Armenia) and Ding Liren (China).


At the semi-final stage of the knockout World Cup, Aronian opposed Maxime Vachier-Lagrave (France), while Liren came up against Wesley So (USA). Having beaten their respective opponents, Aronian and Liren will now both enter the Candidates Tournament in March 2018, which will feature eight participants. Both qualifiers, and their respective nations, will be playing the Candidates for the first time. The winner of the Candidates Tournament will oppose Magnus Carlsen of Norway for the chess championship of the world.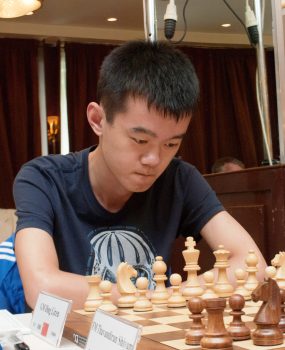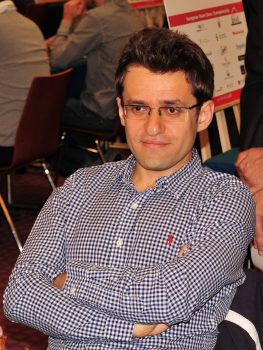 Naturally, each nation was supporting its entrant, and the bookies had their own favourites. I felt that the matches could go either way, but  the players with the stored, the reserved energy were likely to bring home the bacon.
Nations, and grandmasters themselves, use their renowned intellect to support a multifaceted aspect of life. We have the case of ex-world champion, Russia's Garry Kasparov, who presents a regular column for the influential Wall Street Journal on international politics, world affairs and chess. In 2007, Kasparov published the internationally acclaimed bestseller How Life Imitates Chess, which examines the parallels between decision-making in chess and within the business world. In addition, Kasparov authored over two dozen international bestsellers on international affairs, politics and chess.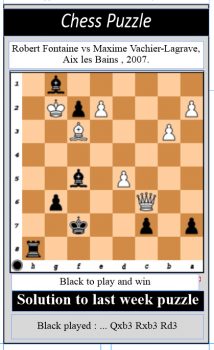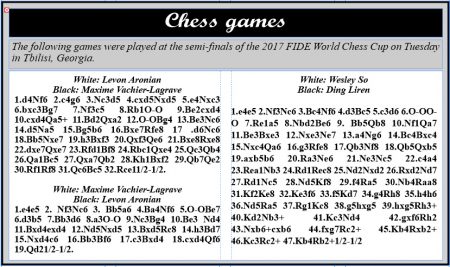 Comments

2017 was a great year for world chess. The column highlighted whatever was of importance in chess locally and internationally.

Chess grandmasters Viswanathan Anand and Ju Wenjun, and Magnus Carlsen and Nana Dzagnidze completed 2017 in fine style as they won the World Rapid Championships and the World Blitz Championships.

Guyana's chess for 2017 has both been invigorating and disappointing. On the positive side, the Berbice Chess Association was established, an overture was made to the Georgetown Prison, Guyana was represented at an important World Chess Federation (FIDE) overseas meeting, the Berbice Inter-Schools Chess Championship was held and Guyana won the inaugural Caribbean Chess Cup.

"Dear God," she prayed, "let me be something every minute of every hour of my life." – Betty Smith, A Tree Grows in Brooklyn Dennis Ivor Patterson, 73, died on Tuesday, December 12, 2017.

Garry Kasparov, a previous world chess champion, has documented his insights into his 1997 match with the IBM computer Deep Blue.