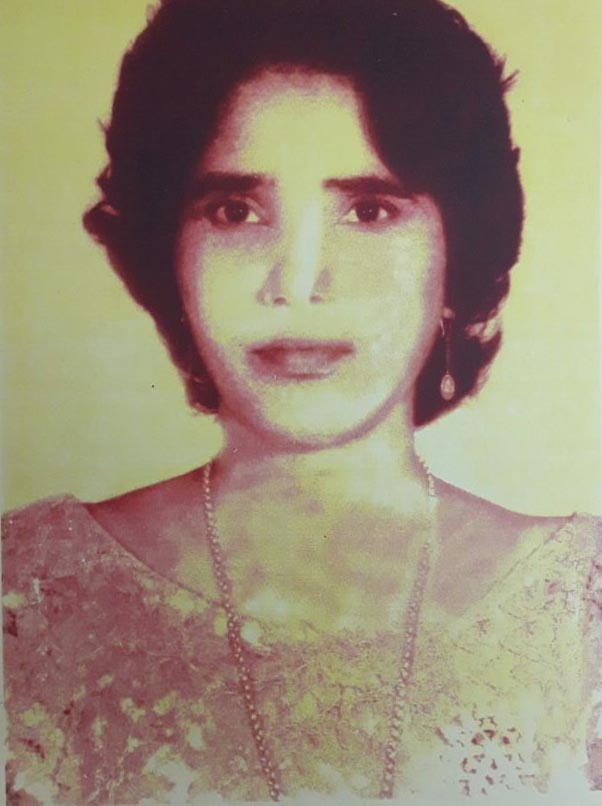 Author and founding Pastor of Maranatha Ministries International Inc Vanrick Beresford has over the past few months been putting together a manuscript that gives insight into the life of his beloved mother Sukhraji.
The Biography of Sukhraji, which is expected to be launched early next year, details the intriguing story of a woman, who, despite being brought up in a time where women's opinions on anything were not tolerated, chose not to be confined to such a life but to move away in search of a better life for herself and children.
Vanrick has written some 12 books, including several of poetry. He was encouraged by his aunt Heria three years ago to write the biography of his mother. He finally got around to doing so this year, which marks 100 years of the abolition of Indian Indentureship. He thought that this would be the right time to write it as his mother was the daughter of an indentured servant, who endured hardships in the time of the British and though she suffered remained strong and rebelled against the life expected of an Indian woman; she saw beyond the shores of Berbice, a better life for her and her sons.
The biography was prepared with the help of Sukhraji's children, grandchildren and sister,  Heria. Throughout the book, snippets of what Heria recalled of her sister can be found.
Sukhraji was the pillar for her five children: Vanrick Beresford nee Ceres, Ulric Ceres (Managing Director and CEO of Total Air Cargo and Total Logistics with direct link to Amerijet Inc), Glen Khan (founder of Laparkan), Maureen Khan and the late Baljeet Sooklall.
Sukhraji's mother Durga, who was widowed and left with a baby, Sonia, married Bahorilall Boonsilall a friend of her late husband, Changa. They had met on the boat that brought them from India. Not long after her birth her mother died, and her father remarried and had two more children. Unfortunately, her stepmother died as well and Sukhraji took on the role of being a mother to younger siblings, labouring in the backdams then returning home to take care of the family.
She was not yet 12 when her father arranged for her to marry a much older man. She had her first son, Baljeet, from this union, but Sukhraji was no ordinary girl who would be entrapped in such ridiculous traditions, so she returned home with her son and continued to work in the backdams. This angered her father, who again arranged for her to be married to someone else, but she was not having it. While working in the fields she found a friend in foreman Randolph Beresford nee Ceres and was drawn to his kindness. Later, when she had his baby (Vanrick), her Indian community chastised her. Her father left her alone with her newborn baby in the market square overnight. Randolph took her into his home where they lived for a short while with him and his wife, who couldn't conceive, but when she later became pregnant with Ulric, his wife decided she had to go.
With nowhere to go and not wanting to remain in Berbice, Sukhraji left her children in the care of Randolph's wife and aunt who remained kind to them. She went to Georgetown, where she used the cooking skills that she learnt from Randolph's aunt to prepare meals for a doctor and his family and later opened her own restaurant; eventually she turned to selling cloth and haberdashery.
The hardships that she endured, propelled her to make a better life for her boys. She saved as she worked and taught her children to study hard. However, Sukhraji never learned to read and write except for Randolph teaching her to write her name. Sukhraji later built two homes along Thomas Street where they lived. Her second home would be much admired for its architecture and today is the building which houses the Ministry of Indigenous People's Affairs.
The Biography of Sukhraji presents from the perspective of its writer, the horror of living in British times and is also inspirational; Vanrick included some of his poems in the book.
Vanrick, who through an accident remained mute for almost five years of his life, said that because of brain damage, he failed throughout his school life and acknowledged that it was only through the inspiration of God that he was able to finish this biography.
Seven of Vanrick's 12 published books are: 32 Inspiring Poems, Guyana in Poetry, The Lame Take the Prey, The Seven Pillars of The Church, Mighty Words, The Church Inundated, and God Is Marvelous and Life Is Beautiful.
Around the Web