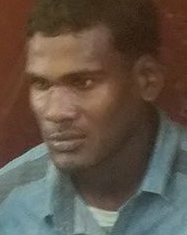 A 23-year-old miner was yesterday sentenced to 18 months in prison for stealing over $245,000 in property from his employer.
The charge stated that Derrick Oudkerk between 21st and 31st of December at St Elizabeth backdam , Mahdia, stole a fuel pump, valued $170,000, a starter valued $34,000 and other items, a total value of $245,400 and property of Sherwin Grenata.
Oudkerk pleaded guilty to the charge and stated that he was left in charge of operations and he was left without any food or anything to take care of the place.
The prosecutor's facts stated that the accused along with others stole a quantity of equipment and groceries. He was arrested, told of the offence and later charged.
The complainant, Sherwin Grenata stated that he gave the defendant a $35,000 advance out of $75,000 for two weeks and left a portion of groceries for him.
Magistrate Judy Latchman sentenced him to 18 months in prison.
Around the Web