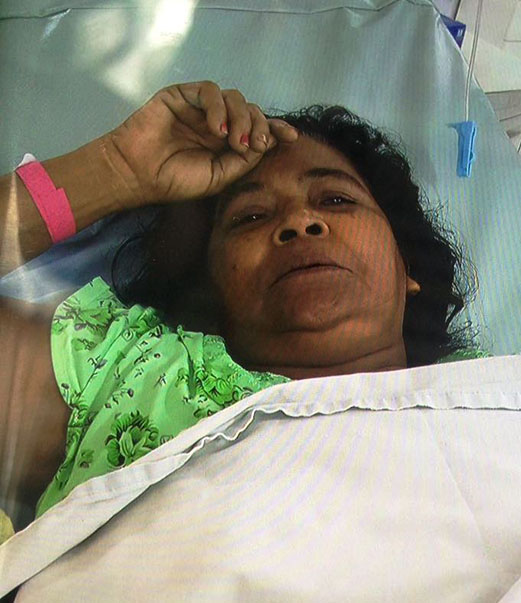 Parmadai (only name), the Agricola woman who was accidentally wounded last year during a shootout between members of the Guyana Police Force and alleged bandits, is still awaiting compensation from the Guyana Police Force.
The resident of 124 Caesar Street, Agricola, told Sunday Stabroek that since the shooting, which occurred last July, police have not contacted her to discuss any settlement.
In October last year, Stabroek News reported acting Police Commis-sioner David Ramnarine as saying that the force had been advised to compensate Parmadai.
"It was recommended that the incident which resulted in the gunshot injuries sustained by the victim was purely accidental in the circumstances, hence most unfortunate and that the victim should be compensated," he said in a letter to this newspaper in response to a Stabroek News report, headlined 'Agricola woman still awaiting word on probe of police crossfire shooting.'
Attempts to reach Ramnarine on the status of the compensation payout were unsuccessful.
"We saw it in the newspaper. On to today, nobody came to us or called us to say what happen. I would really like if we can get the compensation because the bills are high," the woman told this newspaper.
Parmadai said since the shooting, she has not been able to return to her normal life as she has been unable to ply her trade as a seamstress.
"I haven't been able to do anything. Sometimes I cannot sit for too long because you would feel this pain. I can't fetch a bucket of water, I can't tend to my plants, I can't sew, I can't do anything and it is very depressing because I am not accustomed to this lifestyle," she lamented.
The woman went on to say that only on Friday she returned to the doctor and had to undergo an MRI after complaining of severe pain. "This pain would ease for a two days but somedays it feels like you are shocked or needles boring you and it would last for about a week. If the rain sets up or falls, it is even worse," she stressed.
Parmadai added she finds it difficult to meet medical bills since she does not work anymore and the little money her husband works for as a security guard covers their monthly bills and meals.
"For the eight months, it has been difficult… the little money I had was spent at the hospital… and I would really like if we can get the money," she added.
Elietha Heeralall, the daughter of the injured woman, previously told this newspaper that the family has spent over a million dollars on medical treatment.
On July 11th, 2017, Parmadai was in her hammock at home resting when she was shot in the buttocks and in her left hand. She was rushed to the Diamond Diagnostic Centre, were she was treated before being transferred to a private hospital for medical attention.
Following the shooting, police had said in a statement that ranks went to Fourth Street, Agricola and were confronted by two men who were armed; one had a sawn-off shotgun and the other had a handgun. As the police ranks approached the suspects, they "opened fire on the lawmen who adopted tactical positions and returned fire; during the exchange, the suspect with the shotgun was injured."
Around the Web