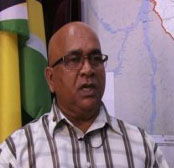 After an inspection of Region Three's contract awards raised questions about whether value for money was being sought, the Public Accounts Committee (PAC) yesterday requested that an examination be conducted of the engineer's estimates for 22 projects awarded in 2016.
Denis Jaikarran, Regional Executive Officer (REO) as well as Chairman of the Regional Tender Board, was made to answer for the Board's failure to follow recommendations made by the region's Evaluation Committee in relation to the bid process, when he appeared before the PAC at the Public Buildings yesterday.
The REO told the PAC that the Board did not choose the lowest responsive bids in those cases as they had made considerations of the engineer's estimates, as well as the geography of the area.
He reported that the bids were collected through open tender, with a list of pre-qualified contractors included in the bidding process.
The 2016 Auditor General's report records that an examination of the Tender Evaluation Reports showed 22 instances where contracts "were not awarded to the lowest or most competitive bidders, despite the Evaluation Committee recommending the lowest evaluated bidders in each instance."
"The lowest responsive bidder, in all cases, they've all been nullified to the extent that they're not granted the contracts," Member of Parliament (MP) Nigel Dharamlall observed, before adding that the occurrence of such "…is against everything that we stand for in value for money."
Jaikarran related that the 22 contracts were in the minority of the contracts awarded when asked by MP Juan Edghill. But when asked if that meant that most of the contracts went to the lowest responsive bidder, the REO requested time to verify that information, while stating that he would have to examine the Tender Board minutes.
"This is a very serious development, sir, especially when it comes to a number of bids. The region has benefited from as much as 40 bidders for a particular contract. It means that the contractors in the region are expecting a competitive process and having invested in a competitive process, which should yield savings to the state, we're advised that it did not accrue to the state but we are staying with the engineer's estimate," said Edghill. "So I'm asking for an examination of the engineer's estimate because it is the same engineer who has to monitor and sign off certification for payments on these works and I'm raising a red flag on this matter at PAC today," he added.
Chairman of the PAC Irfaan Ali subsequently requested that the Attorney General examine the engineer's estimates, as requested by Edghill.
Around the Web