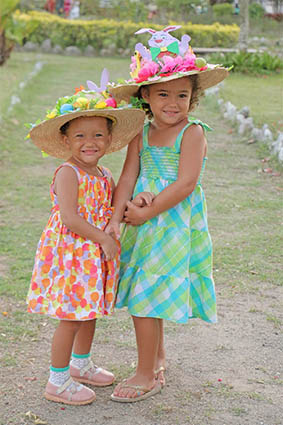 The Promenade Gardens will come alive on Saturday April 7, when the Inner Wheel Club of Georgetown hosts its annual Easter Hat Show and Garden Party. According to a press release from the club, the hat competition, now in its 31st year, is open to children and adults in two categories: elegant and topical/comical. Last year's show had coincided with Earth Day and there was a special trophy for the best topical hat with an environmental theme. That is being repeated this year and the organisers are looking for more originality in hat design. Do-it-yourself enthusiasts are urged to get creative.
Registration for the competition is done on the day itself and contestants are required to arrive early to register from 2.30 pm. Registration closes at 3.30 pm, which is when the show begins, the release stated.
The Annual Hat Show and Garden Party is the Club's largest fundraiser. General entrance tickets are $500, while tickets for entry plus tea cost $2,500. These are available in advance from members of the Inner Wheel Club or can be purchased at the gate on the day of the show. There will be other various stalls selling sweet and savory snacks. As usual, the Guyana Police Force Band will be in attendance and there will be family-oriented games and other activities, the release said.
The Inner Wheel Club of Georgetown is a charitable organisation that raises funds to make an impact in the lives of the less fortunate through scholarships for students and activities that benefit children and the elderly. It was established on March 16, 1985 and is one of 3,895 clubs in 100 countries around the world. Email contact is: innerwheelhatshow@gmail.com and on Facebook: www.facebook.com/innerwheelgeorgetown 
Around the Web