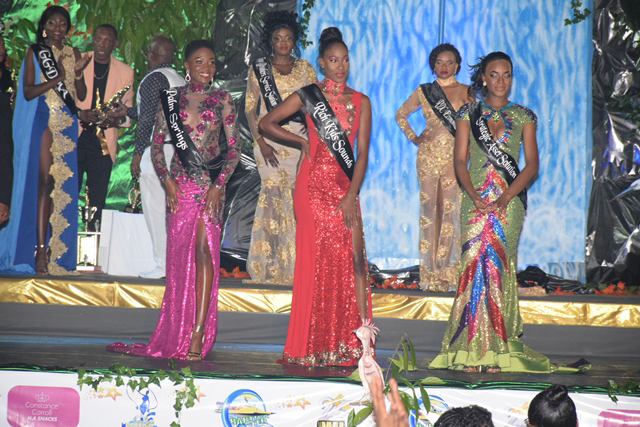 Arian Dhalia Richmond has won this year's Miss Bartica Regatta Pageant.
A release from the Department of Public Information (DPI) said that the 19-year-old Bartican dominated throughout the talent, swimsuit and evening gown segments on Saturday night.
Richmond was crowned the Regatta Queen in the early hours of yesterday morning following a late start of the show which was held on the basketball court at the Community Centre Ground, Second Avenue.
Along with the crown, Richmond also won the Miss Intelligent, Miss Body Beautiful, Miss Multimedia and Best Gown awards on pageant night. DPI said that Richmond, who was the crowd's favourite throughout the competition, demonstrated the poise and elegance that a pageant stage demands.
Richmond sang her way to the top in the talent segment with a song she dedicated to the victims of abuse. First runner-up Kasherell Payne, and second runner-up Takeisa Boston were also impressive during the pageant. Boston was the best dancer of the night, however, Payne stood out with her spoken word piece, DPI said.
In the question segment, when asked what  would she do if she had a day for herself, Richmond replied that she would bring the country's leaders together to address the issues affecting youth in Bartica and across the country.
The Regatta Pageant, a key feature of the Easter Regatta calendar of activities, was a night of elegance before the powerboat day. Chief Judge was the 1998 Miss Universe, Wendy Fitzwilliam from Trinidad and Tobago.
Around the Web