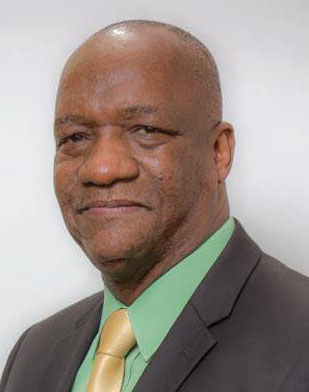 Central government is not prepared to act against the Georgetown City Council for having passed new by-laws for metered parking, according to Minister of State Joseph Harmon.
Harmon on Thursday stressed that central government is committed to allowing the city council to govern unhindered even as he reminded citizens that they will soon have the opportunity at the upcoming local government elections to show the "city fathers and mothers" what they think of their actions.
"These decisions that are being made are well within the remit of the city council and, therefore, unless an approach is made to central government, we will prefer to allow the city council to do its work," Harmon told reporters at a post-Cabinet press briefing.
"Later on this year, you will have an opportunity to have a referendum as to whether in fact you believe that the city fathers and mothers are doing a good job and so allow them to function because it must not be said that we were not allowed to function and that is why this did not happen or that did not happen," he added.
At the time he was responding the questions about the council's decision to approve new by-laws for the project, which has been suspended since March, 2017.
The amended by-laws were approved on Wednesday by a majority vote of 13 to 2, despite pleas from three councillors to halt the process.
Councillor Malcolm Ferreira, a Representative of Team Legacy, was particularly concerned that the council was moving forward on a matters which are still engaging the courts.
Ferreira pleaded with the council to exercise caution and allow the court to rule to offer legal guidance and an endorsement of whatever decision is best to move forward with. "We should not rush into any decisions, and more so, decisions that have proven to be unpopular," he stressed. He was at the time referring to the legal challenge brought against the City Council's parking meter contract with concessionaire Smart City Solutions, which is still engaging the High Court.
This challenge is one of two which were brought against the instruments legalising the metered parking project. A second challenge to the previous by-laws themselves was won by the National Building Society. City Hall has appealed that decision.
There have also been widespread protests against the metered parking project, led by the Movement Against Parking Meters. Its opposition led to central government intervention and the by-laws were suspended last year by Minister of Communities Ronald Bulkan.
At the time, Cabinet said it had concluded that the contract should be suspended for 90 days to address issues such as the cost of parking, the financial arrangements of the project, stakeholder involvement, provision for parking for police, army, and fire service vehicles and ambulances, and the jurisdiction in which parking meter installations were allowed.
Harmon repeatedly stressed on Thursday that the City Council is an independent body and that central government only intervenes in its functioning "when the city requests it or if actions are taken which affect in a serious way the safety and security of the citizens."
Around the Web