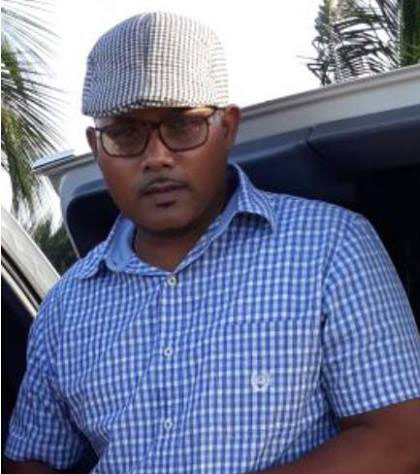 The police in 'C' Division are currently pursuing three bandits who shot a 43-year-old food vendor during a robbery last Wednesday along the Lusignan Public Road, East Coast Demerara (ECD).
Owen Xavier Khan of Lot 10 Area H, Lusignan, ECD sustained a single gunshot wound to his stomach during the incident which occurred around 10 pm.
He was rushed to the Georgetown Public Hospital (GPH) by the police where he underwent emergency surgery. The bullet remains lodged in his back. He was discharged on Tuesday.
Khan who recently returned to Guyana operates a mobile food vehicle along the Lusignan Public Road where he sells BBQ meat.
Recounting the ordeal to Stabroek News from his hospital bed, Khan related that he and an employee were attending to some customers when they noticed a gold-coloured vehicle pull up.
"They (the customers) were about to walk off and a gold vehicle pulled up", Khan said. He said while two men exited the vehicle, a third individual remained seated in the back seat.
"They (the bandits) came up and they asked what I had. …one came up to me and placed his order and then the other one turned his back and pretend like he was looking in his wallet, but I realized afterward that he had the firearm under his other arm and I don't know what he was trying….if was to take a bullet out of his wallet to put into that gun because he only fired one shot, then my eyes caught the third person came out of the car and tried to sneak around in the shadows", Khan recalled.
Prior to being shot, he said one of the men held him at gunpoint and ordered him to "pass everything". In fear for his life, Khan said he replied 'no problem, its right here' as he lifted up the apron he was wearing to show the bandit, that the money was in there.
"Then I noticed that his finger was tightening on the trigger", Khan said. He said as the gunman relieved him of the cash that was in the apron, he discharged a round which struck him in his stomach.
After this, Khan added that his two accomplices searched his pockets which contained about $20,000 in cash. Khan said after he realized he had been shot, he took a seat and told his worker to call home and the police. He said the community policing group arrived at the scene about five minutes before the police.
"When they got there I told them I need to go to the hospital now and they (police) put me in the back of the van and bought me to the hospital", he related.
The injured man expressed disappointment at the pace of the police investigation while noting that they have since not made any contact with him. "I think they went to my house which was fruitless because I was here (hospital), they brought me here and I haven't seen or heard from them", he said.
According to Khan, the bullet resulted in damage to his small intestine. "…So I had to get that surgically repaired", he said while adding that it was only recently he has been able to eat normally.
He further noted that although he was discharged on Tuesday he has to keep checking with the doctor as he was told within a week they should be able to operate on him again to remove the bullet. "Before they take out the bullet I want to get a MRI done to make sure there is no other obstruction there", Khan said.
He said he has since been experiencing pain in his legs and numbness while adding that although he is able to walk, he can only take 'short steps'.
Contacted for a comment on Tuesday, Divisional Commander Edmond Cooper told Stabroek News that an investigation has been launched by the police but no arrest has yet been made.
Cooper said investigators have since reviewed surveillance footage from around the scene in the hope of identifying the suspects and they are yet to obtain a statement from Khan. According to Cooper, his ranks had visited the injured man following the incident but was unable to obtain a statement due to his condition. "They had visited him earlier but he was not in the position to give a statement but of course they will be visiting his home soon to do such", Cooper said.
Around the Web