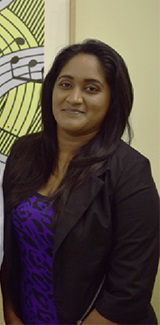 Editors and other media managers need to stand up to those in authority and influence those who seek to impose restrictions on freedom of expression because of their dislike of the opinions of others, says Guyana Press Association (GPA) President Nazima Raghubir.
Raghubir cited, in this instance, the decision by "the state-owned and government-controlled Guyana Chronicle" to discontinue the contributions by columnists Professor David Hinds and trade unionist Lincoln Lewis.
In a statement on the occasion of World Press Freedom Day observed yesterday, under the theme "Keeping Power in Check: Media, Justice and the Rule of Law", Raghubir told journalists at a lecture held at Moray House Trust, Camp and Quamina streets that the GPA "has observed the increasing frequency among certain media houses of deliberately slanting their stories" in keeping with their owners' political preference.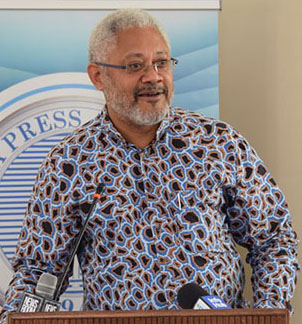 In recent months, she said, the GPA has had reports of "Government officials calling media houses to demand sources from reporters, to demand that media outlets refrain from providing coverage for other political officials and threatening to call the police to remove reporters from public meetings."
These actions, she said, were not much different from the days when journalists were banned from the Office of the President or State House and media houses found their economic viability threatened over the withdrawal of State advertisements.
The association is also urging Government and the Opposition to arrive at a consensus to delete from the proposed Cybercrime Bill, provisions that will institutionalise criminal defamation. "Those provisions, we contend, must be removed because they are not in accordance with the global shift towards the removal of criminal defamation from the law books of several countries including a number of them in the Caribbean."
She added, "Guyana will be retrogressing instead of progressing by entrenching the criminalisation of freedom of expression if certain sections in the Cybercrime Bill are enacted into law."
On the issue of fake news, she called on media workers and Guyanese to guard against fake news operations especially on the Internet. The GPA, she said, will not allow journalism to be smeared by those who promote themselves under the guise of being a legitimate media outfit.
In promoting high quality journalism, she said, the GPA will consider naming fake news outlets to protect unsuspecting members of the public from being duped or adversely influenced by fabricated content.
In brief remarks, Troy Thomas of Transparency Institute Guyana Inc said, the free press is an important partner in the fight against corruption.
"We cannot talk about freedom of expression, transparency and anti-corruption if we do not address access to information," he said.
The local Access to Information Act, he said, can be used to restrict access to information instead of facilitating and that needs to be addressed as investigative journalism may not be able to access official documents.
The State media, he said, should not be "something for the executive." The executive, he said, should relinquish control and turn them over to the people, to be managed by professionals who can plan programmes that enrich the lives of citizens.
Guest speaker on the occasion, Trinidadian rights activist Afra Raymond had his own story to tell on his sojourn with the State media in his country. In 2010, he was contracted by the  state-owned Caribbean New Media Group which operates both radio and television stations, to host a one-hour show on Fridays to discuss political issues of the day and a talk show every Friday morning with two popular television personalities.
The new government led by the People's Partnership had just taken office and they did not like the programmes. Raymond said the woman who was running the TV station was suspended for an alleged fraud which was being investigated, one of the television personalities was reassigned, and his contract was not renewed.
"Without ever using the word 'fired' the three of us were not there anymore. That is how these things can go. We raised a big protest about it, but politics is what it is and they did not give in." The ratings for the morning show dropped, he said, because of the quality that the reassigned television personality had brought, was no longer there.
"It did not affect my livelihood but it really bothered me. The people who fired me are people I know personally. Trinidad is small like Guyana and there is no need for that kind of thing," he said.
Around the Web