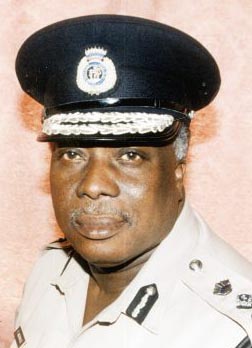 Former Police Commissioner, Floyd McDonald yesterday said that he never received any diamonds pertaining to a matter involving Ronald Khan and is disturbed that after more than 14 years since his retirement he is being asked to give account for it.
"The article and accusations therein are totally false," Mc Donald told Stabroek News yesterday from his Diamond, East Bank Demerara home in response to a news item in yesterday's Sunday Chronicle.
"This is first time I am hearing of this and I only learned that there was a notice for me to visit Attorney General's Chambers yesterday from the newspapers…I was not even in the force when they said it was discovered that the diamond was missing," he added.
McDonald says that there seems to be a calculated effort to besmirch his name.
"I joined the Guyana Police Force on 19th July 1967, I retired February 2004. During the period stated I NEVER RECEIVED, SAW, EXAMINED, SENT TO EXAMINE ANY DIAMONDS in relation to Ronald Khan. I never gave Inspector Maison instructions or any diamonds. Inspector Maison therefore NEVER returned any DIAMONDS to me. It is my view therefore that the article's corrosive nature is aimed at my character. I am therefore calling on the author at this incipient stage to correct his poisonous article with like coverage," he also wrote to the Editor of this newspaper.
In the Saturday May 5th edition of the Stabroek News, the Attorney General's Chambers published a notice seeking to have McDonald, and eight former police officers contact it in relation to the case of Ronald Khan v the Attorney General.
Former Deputy Crime Chief Harley Davidson, Officer Eon Sandy, formerly stationed at the Supreme Court Police Outpost; Alwyn Wilson, last known to be stationed at 'E' and 'F' Division headquarters, Eve Leary and Terrence Semple, who was last stationed at Mahdia Police Station were also asked to contact the AG's Chambers.
Listed too are Courtney Ramsey, last stationed at the Criminal Investigation Department (CID), Police Headquarters, Eve Leary; Desmond Leitch, last stationed at CID, Eve Leary; Constable Fraser Reg #10881; and Ex-detective Sergeant Carl Wilson, Reg # 7797.
The notice did not say what the case is related to but yesterday's edition of the state-owned Guyana Chronicle said that the case pertained to diamonds which had been in the custody of the police force and referred to McDonald.
That matter is scheduled to be called today in the High Court as Khan, through his attorney Nigel Hughes, has filed a suit against the State for the return of the diamonds or to be compensated for the value of them.
The State is hoping that the nine persons it requested in the media to contact the AG's Chambers could help its case as they seek "a detailed account into the matter" for judicial purposes.
McDonald said that while he understands that the State may need help in building its case, he is not sure how much help he would be able to give as he was not personally involved in the matter.
He explained that there are certain processes to be followed when exhibits are collected and stored and if persons are aware of these they would know that he could not have personally collected any exhibit and stored it.
"Property seized or is evidence has to be vouchered then logged into the police force and not an individual. I am very concerned because there seems to be a gap between the AG's Chambers and the police because the police should be the agency to supply the information to the AG.  I was not even in the force when the diamond was discovered missing," he said.
"I am just speaking based on my knowledge of processes. It is not that I was at the CID Headquarters. We don't keep exhibits at the CID Headquarters. It is the F division [in this case], if there is a court exhibit they may have to keep, that is responsible and take it to court whenever the matter is in progress. This was Mahdia so I don't know if they kept the exhibit at Mahdia or at E and F Headquarters, which was at the time upstairs of the DPP Chambers. Where they said diamond was handed over to me, [it is] totally false. I don't keep exhibits at CID Headquarters. I had a small safe like this we don't keep exhibits in it", he added.
Another of the named persons on the list, former Deputy Crime Chief Harley Davidson, said he would not be able to provide any insight or help because he is unaware of the case and as such did not know how he was named. He denied being aware of the case and said that even when the notice was published he had no idea of the case involving Ronald Khan
Very mad
"There is no truth to this story whatsoever that I was involved or know of anyone being involved. I do not even know about this story. I knew nothing and only yesterday when somebody drew it to my attentional that is when I knew I was wanted by the AG's Chambers. I am very mad about it because that notice and the Chronicle article has caused me and my family much distress. It doesn't happen that way that you just put stuff out there without contacting the persons involved," Davidson told this newspaper.
"Someone from the AG's Chambers should have tried to contact me. The same way you (Stabroek News) looked into the directory someone could have tried to contact me but no one did. I was not even there at the time. They must know that they should find out who the investigators were and would be able to get information then," he added.
Davidson registered his disgust and said that he will also be penning to the media how he feels about being named in the newspaper notice and allegations that he might have any knowledge of the missing diamonds.
And a former policeman who was named by a source of the Guyana   Chronicle also said that he is upset that he is being named as having knowledge of the missing diamonds because he has no knowledge of the matter.
"They said I took diamonds to some place on Camp Street near to Shanta's (Shanta's Puri Shop, Camp and New Market streets ). Look I didn't even know that that there was (a)  diamond place near to Shanta's. That story told by whatever source has no truth to that story at all. I am concerned because you have people's names flashing in the papers …. The system is whenever evidence is kept it is always at the station or at the headquarters where the matter is being held and they take the exhibit to court. CID would have cases but they don't keep exhibits there. It is unfortunate that no one checked to see before all of this," he said.
Around the Web