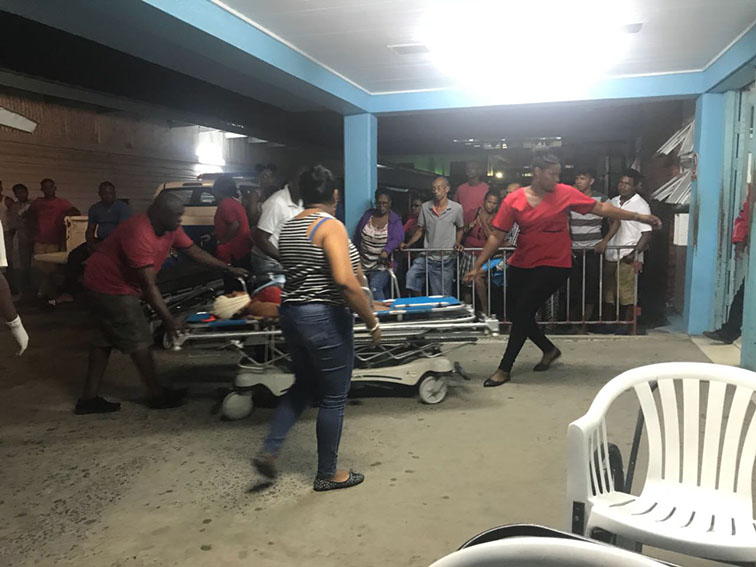 A serious accident on the Kuru Kururu Public Road, Soesdyke-Linden Highway yesterday afternoon has left eight persons hospitalised at the Georgetown Public Hospital.
At the time of the accident, minibus BHH 8451 and motor car PMM 548 were travelling in opposite directions when they collided resulting in occupants of both vehicles sustaining injuries.
From the motorcar Shennelle Hughes 31, Arianna Hughes, 6 , Sebastian Hughes, 10 months old, Jaden Hughes, 9, and Tyrese Arthur 4,  all of 23-44 Rohan H/S 19 back half Diamond East Bank Demerara (EBD) and Quinton Odle 42, along with  8 year old Jada Enmore both of Lot 137 Blankenberg, West Coast Demerara were injured.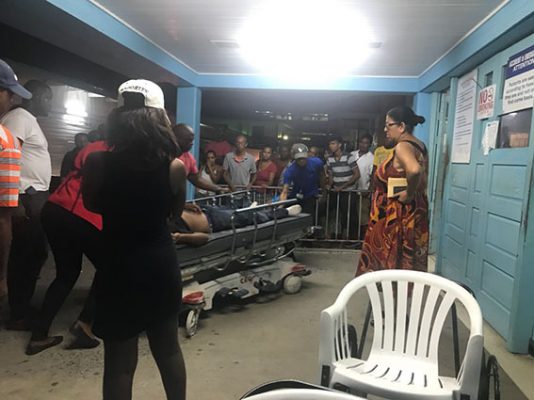 Those injured from the minibus are driver Rawle Mc Kenzie, 49 of Lot 269 Samatta Point, Grove, EBD and passengers Prim  Persaud 46, Rookmine Persaud, Lakeram Persaud, 21 , Mahesh Hardat 10 , Gewan Persaud,16, Tollesh Narine, 28,  Hermella Ram, 28 , Hemwatti Persaud, 20, Brenda Persaud, 9, Arianna Persaud, 8 , Vishaul Persaud, 7, Anthony Thomas, 34 , Jasmine Persaud, 24, Steve Francis, 14, Jullio Looge, 15, Sarita Persaud, 24, Steve Ragnandan, 15, and Darwattie Persaud, 2, all of Kaneville, East Bank Demerara.
Stabroek News was told that the passengers of the bus were returning from a mother's day outing at one of the creeks on the Linden-Soesdyke Highway when the accident occurred at around 5.30 pm.
Police last night said that mini bus BHH 8451 was proceeding along the Kuru Kururu public road Soesdyke-Linden Highway, while motor car PMM 548 was proceeding along the said road in the opposite direction.
It is alleged that Shennelle, who was the driver of the motor car, was travelling at a fast rate and as the vehicles approached each other, she drove into a pool of water. This led to her losing control of the car and it swerved into the path of the minibus.
The injured persons were all picked up and rushed to the Diamond Diagnostic Centre where they were treated for various injuries.
After being examined by doctors at the Diamond Diagnostic Centre they were all transferred to the Georgetown Public Hospital.
The other persons were treated and sent home.
Police said that they have already visited and taken measurements from the scene.
Around the Web