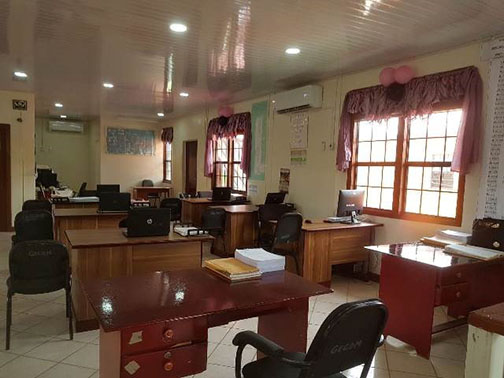 Eleven staffers at the Mackenzie Office of the Guyana Elections Commis-sion (GECOM), will now function in a comfortable environment, following the inauguration of a new $20M two-flat building on May 10 in Region 10.
According to the Depart-ment of Public Information, Chief Executive Officer of GECOM, Keith Lowenfield said that the provision of a state-of-the-art office in Region 10 was necessary, given the area's vastness, which encompasses communities and villages bordering all three main rivers; Demerara, Berbice and Essequibo and seven other regions.
"That is no small area we talking about … We have to ensure all those persons who are 14 years and older, by a prescribed time, that they are registered," the CEO stated.
DPI said that the Commission is currently setting up sub-offices in several other regions.  The CEO said that he is satisfied with the fact that not too many complaints have been levelled against District 10. He is optimistic that with the new building, effective and efficient service will be provided, "I am happy where we are at as far as functionality, as far as bringing a service to residents to the various registration areas that they are very comfortable and satisfied."
Chairman (Ret'd) Justice James Patterson urged the officers to take good care of the building and commended them for remaining steadfast when they were accommodated in a "not so comfortable office."
The Wismar officers, who are still accommodated in their old rented building, will complement the Mackenzie staff. Lowenfield is hoping that the Commission will in the future possess its own building on the opposing shore as well.
DPI said that with the upcoming Local Government Election in November 2018, the building will add to the functionality of both the permanent and contracted staff.
Around the Web