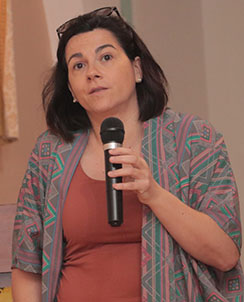 Two government ministries have teamed up to push for minimum international standards for health care and infrastructure for institutions offering services to Guyana's elderly population.
 PAHO/WHO specialist Dr. Christina Alonzo yesterday outlined the global institutions' guidelines at the opening of a two-day national consultation spearheaded by the Social Protection and Public Health Ministries at the Regency Hotel, Hadfield Street, according to a press release from the Ministry of Public Health (MoPH). Other participants include the National Insurance Scheme (NIS), the Georgetown Public Hospital Corporation (GPHC), The Palms Geriatric Home, Demerara Paradise and Mercy Home among others.
"In addition to minimum social standards, we want to establish minimum health standards to provide better health care in homes for the elderly," the Co-ordinator of the Women's and Elderly Health programme of the MoPH, Dr. Umadai Rattan was quoted as saying in the release.
Guyana's standards for elderly care will be patterned after similar guidelines used in Trinidad and Tobago, Ireland, Anguilla, and South Africa and other countries, the MoPH statement said. PAHO/WHO minimum guidelines want equal access to "effective, safe and quality health services that are standardised and follow accepted protocols and guidelines".
Under the PAHO/WHO outline Guyana wants to adopt, Guyanese institutions providing services to geriatrics will have to also use standardised case management protocols for the most common diseases; use standardised referral systems across agencies; ensure a standardised system of triage at all health facilities and initiate health education and health promotion at community and health facility levels, the press statement said.
Local providers in the business of taking care of the elderly must also follow safe and rational use of blood supply and blood products; design health services in a manner that ensures their patients' rights to privacy, confidentiality and informed consent; implement appropriate waste management procedures, safety measures and infection control methods in health facilities, among other globally-followed stipulations, the MoPH release said.
The Ministry of Social Protection has already been using the international guidelines, Abike Samuels, Deputy Director at the ministry said while explaining that it had appointed members of a committee authorised to visit all facilities registered under the Companies Act or the Friendly Societies Act that provide residential care for senior citizens in Guyana.
"One of the objectives of the committee is to conduct a holistic review of the elderly residential facilities in accordance with the guidelines set out in the minimum standards for Elderly Residential Facilities," Samuels was quoted in the MoPH .statement.
Last year committee members visited nine of 20 homes which provide elderly care and three so far for this year.
Around the Web