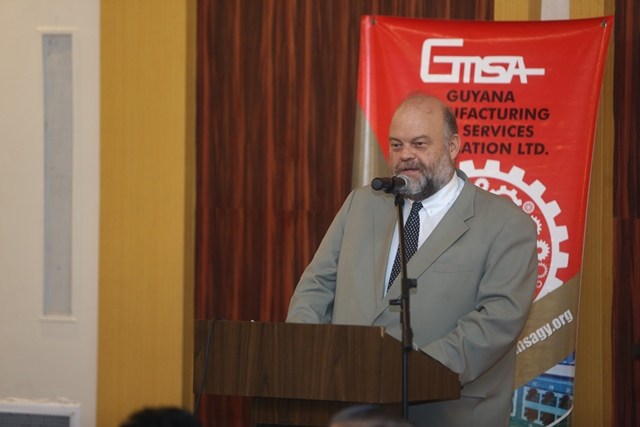 In the backdrop of Guyana's massive oil discovery and forecasted growth of business activities, United States Ambassador Perry Holloway last evening announced that an American Chamber of Commerce (AMCHAM) will be established here next month.
 "I also want to let you know that in August, the first ever, official American Chamber of Commerce in Guyana will begin operations…this is a great initiative that will only help our two countries, Holloway told guests at the US's 242nd Independence Anniversary celebration, which was held at the Marriott Hotel last evening.
An AMCHAM abroad is a voluntary association of US enterprises and individuals doing business in a given country as well as firms and business executives of that country who operate in the United States, according to the US Embassy.
Designed to promote the US' and Guyana's trade and business while creating new opportunities and improved market access for both sides among others, the office, AMCHAM Guyana has already begun to solicit members.
An information leaflet was made available to guests which stated  the purpose of the organization, benefits in joining and types of AMCHAM services.
AMCHAM Guyana's purpose is "to promote America-Guyana trade and business, create new business opportunities and improve market access for America-Guyana goods and services, provide economic, social and policy platforms."
It will also "encourage networking and build valuable business connections, further American business interests in Guyana as well as promote mutually beneficial business relations and partnerships" as well as "promote corporate social responsibility and sustainable development in Guyana."
If business persons have questions about joining, AMCHAM Guyana says that it affords its members numerous benefits. "Many join to enhance community goodwill, others join for the innumerable services and privileges they may expect from the chamber," the company's information leaflet states.
"Most companies join AMCHAMs to meet people, make business connects, access new opportunities and exchange information useful to their business," it adds.
Providing an array of services to members, business persons can expect events that provide opportunities to network and contacts, transfer knowledge while promoting business.
Other services include a collective platform for advocacy surrounding business needs and policies relating to trade and participation in activities of the US Chamber and regional AMCHAMs that promote business among Latin American and Caribbean companies, among others.
Anyone interested in becoming a member can contact AMCHAM Guyana at info@amchamguyana.com.
'Past, Present and Future'
Meanwhile, Holloway, informing that last night's address might be his last as US Ambassador here, used Charles Dickens' novella  'A Christmas Carol', which tells the story of main character Ebenezer Scrooge's interaction with three ghosts; Past, Present and Future as an allegorical reference to the country.
"The ghost of Guyana's past include the Dutch, French, and British and has seen sugar, rice, manganese, bauxite, gold, lumber and other industries be the next great hope that was going to make everyone healthy, wealthy, and wise. These great hopes often came up short or did not last for long. The ghosts of Guyana's past also included slavery, indentured servitude, a struggle for independence, poverty, extensive migration, exploitation, and lots of cricket and curry.
"The ghost of Guyana's present is before us all every day. It includes the six peoples of Guyana: Africans, Amerindians, Chinese, Europeans, Indians, and Portuguese. That is alphabetical order before one of the papers accuses me of favouring one group or another by mentioning them before another. I also should mention the seventh people of Guyana, which is the Diaspora, a group shared by Guyana and the United States, along with Canada, UK, and other countries. The ghost of Guyana's present also includes new industries like call centers, coconut farms, commercial fishing, solar farms, and large-scale commercial gold mining. Unfortunately, the ghost of Guyana's present includes politics that sometimes gets way too personal and uses issues like ethnicity to divide. It includes poverty, although this government and the past government have made great strides in pulling people out of poverty. It also includes half the population who are under the age of 26 with many being unemployed or underemployed. It includes alarming levels of domestic violence and intolerance for people who are different. On the plus side, you have a macro economy that has been doing well for the last five years and is projected to do well for the next few years before first oil. Both the previous government and current one deserve credit for being sound stewards of the larger economy. That is not to say that there are not sectors that are suffering," he added.
But it was Guyana's future that he said which has the most interest and which holds the key to realizing its true potential.
"The ghost of Guyana's future is the ghost that most interests me for this speech. It includes all the six peoples of Guyana, the Diaspora, and I hope people from all over the world who can help Guyana shape a better future for all Guyanese. Why? Because in spite of all the negative press, in spite of all the angst, and in spite of all the uncertainty, Guyana's future looks brighter now than ever before because of future oil production. This discovery of oil offshore is a really big, big, big deal and everyone needs to take it seriously and get smarter on the issue, because while the Government of Guyana is currently doing many of the things that need to be done, much more will need to be done," the US envoy asserted.
The US envoy said that while the current government is working to put in place policies and measures, much more needs to be done and he believes that President David Granger is committed to ensuring this.
"But he cannot do it without the help of all Guyanese," he said even as he called on the populace to join forces but weed out fact from lies in their decision making. In so doing he underscored the roles of the citizenry.
"As in any democracy, you need to hold your elected officials accountable, as well as domestic and international companies operating in one's country. That said, you also need to analyze and make decisions based on facts and reality, not fiction and surrealism," he said.
Holloway pointed to the heavily-criticised contract negotiated by the previous government saying that it "was about the best that could be expected based on historic exploration results in Guyana and world oil markets at the time."
"The changes made by the current government to the contract were all to the benefit of Guyana and were done when confirmed reserves were barely a million (barrels of oil). There are people from Exxon-Mobil and Hess here today, and I think that they would confirm that exploration to date has been so much more successful than anyone could have predicted. They would tell you that hitting 8 out of 10 oil wells is much harder than even getting six runs from a single delivery in a Cricket match, or even getting me to lose 50 pounds," he said.
There is no scenario, after initial investments are recovered, where Guyana gets less money than its partners. Surely getting more money than my partner cannot be considered a horrible deal. In fact, Guyana's real challenge will not be how to get more money from its future partners, but rather how to spend the money it will get, because it will be a lot more than Guyana has now," he added.
He stressed that no one, not even Dickens himself, can predict what the "Ghost of Guyana's future" will look like, but "if things are done right and the right things are done, Guyana will be more secure, prosperous, and inclusive."
Around the Web