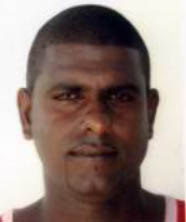 The Customs Anti-Narcotic Unit (CANU) is seeking the public's help to find a Good Hope, East Coast Demerara man, who is wanted for questioning about the recent discovery of almost 325 pounds of cannabis and cocaine in a boat at Mon Repos, East Coast Demerara.
CANU last evening issued a wanted bulletin for Farok Baksh, known as 'Dive and Shoot,' whose last known addresses are 91 Pump Road, Mon Repos and 254 North Mon Repos, East Coast Demerara.
An alleged accomplice, Azim Baksh, called 'Bato,' of Lot 123 Good Hope, East Coast Demerara, who was arrested following the discovery, is expected to be charged today. He is scheduled to appear at the Sparendaam Magistrate's Court.
Baksh's wife, who was also detained, remained in custody up to last evening.
Stabroek News had previously reported that the Baksh and his wife were arrested on Saturday morning following the discovery of the drugs in a wooden vessel at Mon Repos.
CANU, in a statement, had said that an operation was conducted during the wee hours of Saturday morning and uncovered 82 parcels of cocaine, weighing 91.132 kilogrammes (200.9 pounds) and 98 parcels of cannabis, weighing 56.008 kilogrammes (123.4 pounds).
The total 147 kilogrammes of narcotics is equivalent to 324 pounds.
The agency had explained that during the operation, several locations along the East Coast seawall used for the docking of fishing vessels were reconnoitered.
Sometime around 4 am on Saturday, it said, a suspected fishing vessel was seen approaching a docking location in the Mon Repos channel and was intercepted.
At the time, CANU said two suspects were spotted in the boat. Farok was said to be the captain of the boat at the time of the discovery but he managed to escape.
Around the Web