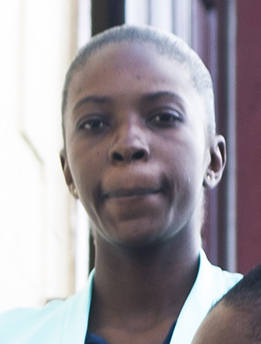 A total of 38 separate charges were yesterday read against two police ranks, who are accused of trying to help learner drivers cheat a sitting of their theoretical examination.
The charges were read against Police Corporals Ryan Gray, 25, of Lot 215 Da Silva Street, Newtown, Kitty, and Shenese Fraser, 31, of Lot 199 Field Seven, Section A, South Sophia, who is the confidential secretary of the Traffic Chief.
Chief Magistrate Ann McLennan read 20 charges to Gray and 18 charges to Fraser when they appeared before her in Georgetown yesterday.
It is alleged that Gray, on April 12th, 2018, with intent to defraud the public, conspired with persons to commit a misdemeanour; that is to say, he uttered questionnaires, knowing them to be forged, in that they were not written by the persons listed.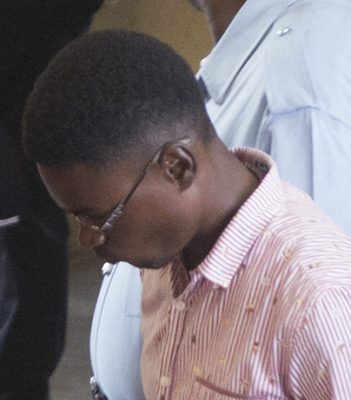 Those listed in the charges as having conspired with Gray were Tashana Phillips, Randolph Yaw, Antoinette Darian Yaw, Samantha Rahim, Teekaram Raghubar, Kiwanis Davis, Guye Adams, Adrian Saunders, Tiffany Kallicharran, Faiaz Isaacs, Shazim Jabar, Amar Totaram, Alexandra Williams, Yolanda Higgins, Alan Johnson, Sonnet L Paone, Michelle Singh, Rashleigh Sam, Ronessa Waldron, and Antoinette La Rose.
Meanwhile, Fraser was read a total of 18 charges, which also stated that on April 12th, 2018, with intent to defraud the public, she conspired with persons to commit a misdemeanour; that is to say, she uttered questionnaires, knowing them to be forged, in that they were not written by the persons listed.
The names listed on the charges for Fraser were Shazim Jabar, Stayesha Romain, Bibi Khan, Theodula Atkinson, Matthew Jacobs, Lavern Spencer, Whitney Ethard, Ronaldo Torres, Keisha Prashad, Curlana Robertson, Kenav Stoll, Adrian Saunders, Antoinette La Rose, Faiaz Isaacs, Arliss Adams, Sonnet L. Paone, Kiwanis Davis and Shavanie Allen.
Neither of the defendants was required to enter a plea to the charges.
Attorney Mark Conway, who represented Gray, noted that his client is still on the job and made an application for him to be released on his own recognizance.
A request for reasonable bail was also later made by attorney Patrice Henry, who represented Fraser.  He, too, noted that his client was still on the job and that she had been placed on self-bail since the allegation against her surfaced.
Police prosecutor Gordon Mansfield made no objection to bail being granted but he requested that conditions be attached. He also noted that there was no interdiction notice as it relates to either accused.
The Chief Magistrate then granted Gray his release on $160,000 bail, and Fraser was granted her release on $150,000 bail. Both defendants were also ordered to report at 9 am every Friday to the Criminal Investigation Department at Eve Leary until the completion of their trials. Fraser was also ordered to lodge her passport with the clerk of courts at the Georgetown Magistrates' Courts.
The matter was then adjourned until August 17th.
Police had earlier indicated that three ranks and a civilian were to be charged with the plot to corrupt the sitting of the examination.
On April 18th, the Guyana Police Force had announced that the Office of Professional Responsibility (OPR) had launched an investigation into "seemingly massive irregularities" in the examination, which was conducted at the Felix Austin Police College in Georgetown.
It had said that the investigation was launched after a report was made to acting Commissioner of Police David Ramnarine by a senior pastor, who received complaints from a colleague who invigilated the examination.
A statement from the police force had explained that while a total of 174 persons registered to write the examination, only 106 presented themselves on the day in question. However, 207 scripts were subsequently received at the conclusion of the examination, 155 of which were completed.
"Initial enquiries revealed that a Senior Subordinate Officer, who was mandated to oversee this theoretical examination in collaboration with two pastors from the Cops and Faith Community Network partnership with the Guyana Police Force, along with three junior ranks, left the examination venue shortly after the examination commenced and did not return," the statement had explained. It noted that the three constables left the examination venue prior to the counting of the examination scripts by members of the Cops and Faith Community Network after the conclusion of the examination.
It added that a junior officer, who ought not to have been at the examination venue, also presented himself, spent some time and left.  "Only the members of the Cops and Faith Community Network, that is the two pastors, were left in possession of the completed examination papers," it noted.
The press statement had also said that preliminary enquiries indicated a complete breach of the Standard Operating Procedures governing the administration and conduct of the learner drivers' theoretical examination.
As a result, the statement noted that persons who sat the examination would have to re-sit it.
Around the Web