Guests and patrons of the Pegasus Hotel last night rushed to help each other evacuate  after a kitchen fire saw smoke filling rooms as high as the sixth floor and they lamented that there were no emergency fire alarms or systems in place for safe exits.
"I was on the second floor when smoke just began filling my room. I said to myself that this was a fire and knowing my kids and my mother-in law were on the 4th floor I rushed up to get them. No alarm went off and when I rushed to the emergency exit a large chain and padlock was on the door," a pastor based in Queens and Brooklyn, New York related to Stabroek News.
"I brought my family here to have the Guyana experience but this is a disaster. What kind of hotel would have chains on a fire exit? What hotel would not have fire alarms or smoke detectors in the rooms? The authorities need to investigate and see what building codes are in effect. They need to do something," he added.
Owner of the hotel Robert Badal could not be reached last night for comment.
This newspaper tried to speak with a man who identified himself only as Dexter and who said that he was the hotel manager. However he said that he was "very busy" and could not speak with the press. The man came out to the entrance of the hotel's foyer about half an hour after guests had evacuated their rooms and shouted that the fire had been quelled and everything was okay.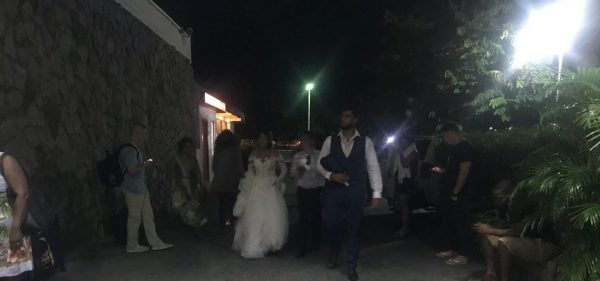 "Everyone my name is Dexter and I am one of the managers! he announced. "We had a small fire in the kitchen with the fryer but everything is fine now!", he added.
But for some guests, staying in a hotel without working fire alarms and escape systems would not work and they informed that they were going over to the Marriott Hotel to see if they would be accommodated. "I would not stay in a hotel that does not have a fire alarm and that has locked exits. I like being toasted but not by a fire," one guest said as he pulled his luggage out of the compound.
For computer engineer Marc (only name given), he has no alternative but to stay at the hotel as his company had already payed upfront for ten more days. He said that he is based in Miami, Florida but is here carrying out  works for the Guyana Telephone and Telegraph Company.
He too lamented that no alarm went off and he was only notified after receiving a telephone call from the receptionist that there was a fire and he needed to come downstairs. He is staying on the 6th floor of the hotel.
"I was in the bathroom and saw the place getting cloudy but I thought it was from the heat. After I started smelling actual smoke I came out and the phone rang same time and someone said there is a fire and I should come down," he said. "No alarm or anything went off and if I was not near the phone I would not have heard. From the bathroom you cannot hear anything," he added.
Other guests told similar stories and one bride and groom, Tashadai Tiwarie and  Riyad Sattaur, whose wedding reception was being held in the Savannah Suite of the hotel, paced the outside of the hotel looking distressed.
The Guyana Fire Service expressed disappointment at both the hotel's emergency escape systems and their handling of the fire. Guyana Fire Service prevention officer, Andrew Holder explained, "The fire occurred as a result of a deep fryer either accidentally or willfully left on, which became so overheated that it ignited the insulation for the heat extraction which created a smoke log environment. We managed to quickly to put out that fire and initiated some form of ventilation. I can understand the occupants' anxiety in terms of relatives still being in rooms, we tried our best to get them out as quickly as possible, and that operation was also successful. The fire was contained to the kitchen area.
"This fire is coming immediately after training for hotels  last Friday. The response that we got was very disappointing for that training. Some of the same stuff we dealt with at that training occurred here tonight. I am hoping that after this, the next fire safety training for the hospitality sector can be properly attended.  He also pointed to doors being locked. "I observed a number of exit areas were padlocked and chained, even in the kitchen area, when we were trying to ventilate. The thing is the fire prevention department does yearly checks and inspection. We do not know what would obtain after those are conducted. This here would prompt another impromptu inspection. It should not be locked, if they are locked it should be easy ways to open those locks but  some of the exits are chained and padlocked. Their fire alarm system was non–functional. Even when we started bringing persons down they kept telling us we didn't hear a fire alarm. All of that we dealt with last week in our training. This is unacceptable," he said.
The Guyana Fire Service had recently warned about a rise in fires in restaurant kitchens.
The Pegasus Hotel issued the following statement today:
Pegasus statement on fire incident
At approximately 10:30pm last evening there was an incident at the Pegasus Hotel. A small fire ignited on a fryer in our kitchen. This resulted in residual smoke entering the lobby area and a few other areas which caused anxieties and an inconvenience to some of our guests. While there was no immediate serious danger, some guests were evacuated for a short period out of an abundance of caution and as per standard operating procedures to ensure their safety which is our utmost concern.
Shortly after the fire ignited, the fire alarm located in the kitchen went off and Emergency Response immediately kicked in. The fire was extinguished within ten minutes of the alarm by our staff. The fire department was alerted and responded promptly.
The residual smoke did cause some inconvenience to some hotel guests which we regret. However the situation was quickly brought under control. No one was injured and guests were promptly evacuated for a short period. We understand the anxieties of our guests who were inconvenienced. We are pleased that all guests were returned to their rooms within a short period of time and that there were no injuries or any need for relocation to another property or alternative accommodation. 
Pegasus offers its sincere apologies to the guests who were inconvenience.
The safety and comfort of our guests are of utmost importance to us. It is for this reason that we invested in the latest model Honeywell Fire Response System. We thank the members of staff for acting promptly and we also thank the Guyana Fire Service and the emergency response units for their prompt and professional response.
Pegasus has had a long reputation for a safe and friendly culture and environment and we will strive to continue this tradition by investing in the best available technology, in addition to learning any pertinent lessons from this incident after a complete investigation and analysis are done.
Robert Badal
Around the Web