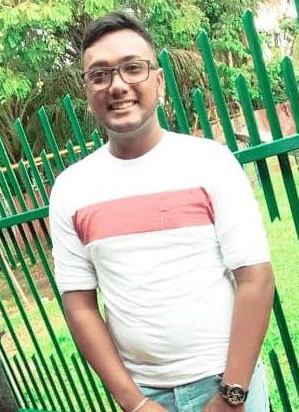 Anzal Ledoux, the teenager who was shot in his face as he attempted to prevent two bandits from entering his family's Good Hope, East Coast Demerara property, has been discharged from the Georgetown Public Hospital and is currently recovering at home.
A relative confirmed on Wednesday that Ledoux, 19, was discharged but noted that he is expected to return to the hospital for further tests to determine whether he will be able to hear from his left ear again. During his admittance at the hospital, he underwent surgery to remove a warhead, which was lodged in the region of his left ear.
The teenager was shot once to his face during the attack, which took place around 9.30 pm on Saturday at his Phase One, Good Hope home.
While the entire episode was captured by CCTV surveillance cameras, Divisional Commander Leslie James told Stabroek News that the police are yet to apprehend the perpetrators.
Ledoux's mother, Gangadai Jairam, called 'Julie,' had previously related to this newspaper that she, her husband—businessman Shafeik Ledoux—and their children were among a group of around 10 persons, who had gathered and were chatting on their bridge. The youngest among them was Jairam's four-year-old daughter.
She said they were alarmed when they noticed two men pass by on a motorcycle.
Jairam explained that when the men passed their house, the pillion rider was seen looking at them suspiciously and observing the surroundings.
She said at this point, she became suspicious since she noticed the men were returning.
As a result, she said she tried to get everyone into the yard. Jairam said they all rushed into the yard, after which Anzal braced the gate from inside the yard to keep it closed.
"…He come in and he brace the gate. He couldn't geh fuh padlock it but he brace it and the brace wah he brace it, the man [gunman] push he hand and when he push he hand, meh son knock he like. Meh nah know if he knock he fah knock out the gun but he knock he. Me nah know if he see he gah one gun or he nah realise it but after he knock he hand he probably he get angry and then is when he fire the shot," Jairam recalled.
She said that although Anzal tried to get out of the way, he was still struck.
After Anzal was shot, he ran further into the yard and subsequently collapsed.
While all this was happening, the gunman's accomplice remained seated on the motorcycle. The gunman later rejoined him and they sped away.
Around the Web