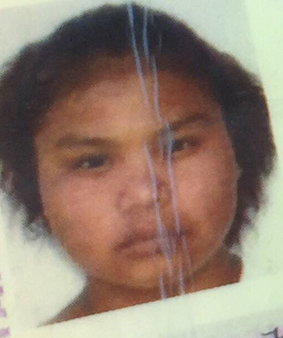 Brenda Ferreira, the 26-year-old mother who police say admitted to fatally stabbing her three-year-old son at their Foulis, Enmore, East Coast Demerara home on Saturday, was yesterday charged by police with murder and is scheduled to appear in court today for her formal arraignment.
Police spokesman Jairam Ramlakhan yesterday confirmed that Ferreira was charged by police with murdering Ramdeo Ferreira based on legal advice sought. She will be arraigned before a magistrate at the Cove and John Magis-trate's Court this morning, he added.
Ramdeo, called 'Papa,' of Lot 585 15th Street, Foulis, Enmore, was stabbed twice during the attack by his mother, which took place around 9.45 am on Saturday at their home.
He was later rushed to the Georgetown Public Hospital, where he succumbed around 1 pm while receiving medical treatment.
An autopsy performed on Monday revealed that Ramdeo died of a stab wound to the heart.
The mother was taken into custody following the incident.
She had reportedly told the police that she had a dream that she was going to die on Saturday and she didn't want to leave Ramdeo behind since he was her favourite child.
Ramdeo's four-year-old brother, who witnessed the attack, managed to escape and alerted a relative of his father, Shamlall Mahadeo, who informed neighbours and they called the police.
Following Ramdeo's death, villagers had voiced their belief that the child could have been saved if the authorities had taken concerns about the conditions in which the children were being raised more seriously.
A relative had told Stabroek News that she personally called the Childcare and Protection Agency and reported the situation. Although she had said based on what she learnt, officials from the agency turned up but found that the house was tightly secured and they never returned.
Following a review of its records, head of the agency Ann Greene told Stabroek News yesterday that a report was made on December 18th last year.
The following day, she said, an officer visited the house but it was tightly secured.
She said the officer related to her that he returned on two other occasion afterwards; namely on January 18th and in May this year and then, too, no one was present at the house. "Apparently he (the officer) said that the house was closed, that the woman moves around with the children. They were never home. He never was able to make contact with her. That's from last year but we had no further reports since on the matter," Greene said.
Greene also reiterated the need for community intervention in such cases. "…You see there is a responsibility both for the reporter and the responder. A reporter, if you call in something, it means that you want an action, so you're supposed to stay awake until you get an action and the responder, there is a responsibility, too," she added.
Greene made it clear that the agency is not blaming the community for the child's death. "It's not a case here not that we are looking to blame anyone but if we come to blame there is enough blame to go all around," she noted.
Greene said now that it has been established that the officer did what was required, she is still engaged in talks with her officers on how they can improve their response in the future.
In terms of the surviving child, who is presently in the care of a relative, Greene said the agency will have to intervene and ensure that he is being kept in a safe environment by conducting visits.
Around the Web