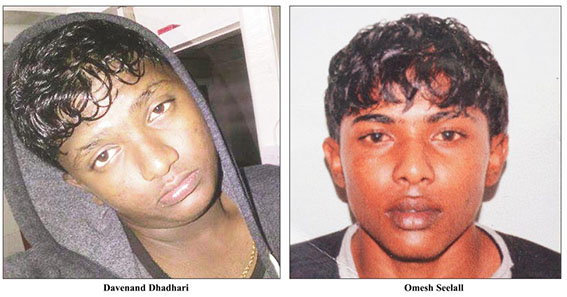 A Betsy Ground, East Canje Berbice youth, who was found guilty of man-slaughter last month, was yesterday sentenced to 23 years imprisonment at the High Court in Berbice.
Davenand Dhandhari, called Kevin, 20, of Betsy Ground Village, East Canje, Berbice, was accused of causing the death of Omesh Seelall, also known as Rovin, a labourer of Betsy Ground Village, on April 17th, 2016, after he inflicted a blow to the man's head using a 2×4 piece of wood.
He was represented by attorney-at-law Mursaline Bacchus during the trial. The decision was handed down by Justice Jo-Ann Barlow.
During the ruling, it was determined that one year would be deducted from the sentence because of Dhandhari's age, while the years spent on remand would also be subtracted.
During the reading of the probation report, which was done before sentencing, it was related that Dhandhari wrote three subjects at the CAPE level while incarcerated in 2016. Additionally, it was noted that at the CSEC level, he attained passes in nine subjects.
Justice Barlow, in her ruling, encouraged Dhandhari to continue to develop himself despite his circumstances. The judge also ordered that Dhandhari enroll in anger management programmes that are available.
The probation report had also indicated that Dhandhari had never intended to harm Seelall, who he had known from a young age, as the two grew up in the same village. It was further noted that Seelall's death took a toll on his (Seelall's) relatives, and that they endured financial struggles while Seelall was hospitalised at the Georgetown Public Hospital.
According to the defence's case, Seelall's death was a result of self defence. Dhandhari, in his unsworn statement, had claimed that the labourer was approaching him with a Rambo knife and he became fearful for his life. In his statement, he said that after hitting Seelall, he dropped the piece of wood and ran because he was afraid that Seelall's friends would retaliate. Dhandhari had claimed that earlier that night, Seelall had uttered a homophobic slur toward him when he entered a rum shop in the village.
A shopkeeper in Betsy Ground Village had testified that she was picking up bottles from her parapet when she noticed Dhandhari standing next to a dray cart. She said she saw him picking up a piece of wood from the dray cart. According to the woman, she then looked to see who Dhandhari was going to hit and it was then that she saw Seelall, who was facing her at the time. The woman further testified to seeing Dhandhari hit Seelall before dropping the piece of wood and running away.
Sergeant Lawrence Thomas, who also testified, claimed that in the statement given by the shopkeeper in 2016, she had stated that she could not see who Dhandhari struck because there was a crowd present at the time.
However, the shopkeeper, during the trial, countered this, stating that she could indeed see and that she did not state otherwise in her initial statement.
Kishan Serojinie, who was imbibing at the shop on the night in question for over four hours, had testified that the shopkeeper was behind her counter selling during the altercation. He related that he had picked up Seelall and rushed him to the New Amsterdam Hospital. He noted that during the journey, he stopped at the Reliance Police Station and filed a report.
Dhandhari's brother had testified that when he rushed to the scene he saw a piece of wood and a Rambo knife lying next to Seelall's body.
Around the Web