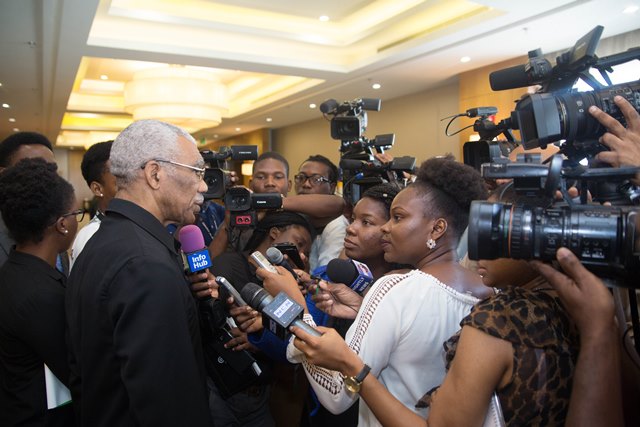 President David Granger has said the proposed disbursement of cash transfers from oil revenues would not be discussed at Cabinet until recommendations are made on the issue by the new Department of Energy.
"I said all matters concerning oil and gas have been referred to the Department of Energy, including that proposal. No, it hasn't been discussed [at Cabinet] and wouldn't be discussed until recommendations are made by the Department of Energy," Granger said Friday, September 7th, in response to questions about how he felt about the issue and whether it has reached Cabinet.
To the resounding applause of attendees at a forum organised by the Buxton First of August Movement, Professor Clive Thomas had declared that regardless of what multilateral agencies may advise, Guyanese must pressure the government to tap monetary rewards from oil revenues if this country wants to have true equity and see a real lowering of poverty.
"Whether it be US$5,000 per year or whatever it works out at, we can put the figure together–there must be a mechanism in place to ensure every single household and by extension every single person sees the benefits of oil and gas in terms of cash or cheque received in their accounts," Thomas stressed.
The Working People's Alliance (WPA), to which he belongs, subsequently said that it would lobby governments for cash payouts from oil revenues.
Political scientist and WPA executive David Hinds weighed in on the discourse, saying that government should not adopt an either or position to direct cash transfers and improving social and other services, but must commit to both. "It's not one or the other. It's all of them and so cash transfer is just part of it. Our view is that if we solve the problem of poverty, that will be a big way in terms of solving a lot of the national problems because poverty is holding back countries like Guyana and so we feel that poverty alleviation must be a priority," he stressed.
Granger made it clear that all matters concerning oil and gas have been referred to the Department of Energy.
Around the Web