Seven political parties, 21 voluntary groups and 33 individuals are expected to submit candidates' lists to contest the November 12th Local Government Elections (LGEs) at the offices of returning officers countrywide today. 
The political parties vying for seats on the 80 local authority areas (LAAs) are A Partnership for National Unity (APNU), Alliance for Change (AFC), People's Progressive Party/Civic (PPP/C), United Party for National Growth and Development (UPNDG), United Republican Party (URP), Guyana National Congress (GNC) and the GNS Party.  
APNU, AFC, PPP/C, UPNDG and the URP have submitted to the Guyana Elections Commission (GECOM) their symbols, which is an indication that they will contest all the municipalities and neighbourhood democratic councils (NDCs), which collectively comprise the LAAs.
The GNC has indicated that it will contest all the LAAs in Region Four (Demerara/Mahaica) and the GNS Party will contest all 10 municipalities.
The Guyana Elections Commission (GECOM), in a press release issued yesterday, said that all political parties, voluntary groups and individuals with approved symbols to contest the LGEs are required to submit their lists of candidates using the prescribed forms.
Among the groups expected to submit lists in Georgetown are Horizon and Star and Youth for Local Government. Twelve individuals have submitted symbols to contest individual constituencies in Georgetown.  
In the new town of Mahdia, out to give the seasoned political parties some competition is the Mahdia Concerned Citizens Group. 
Two groups in Linden—the Linden for Lindeners and The New Horizon Movement—are also expected to submit lists having had approval of their symbols.
The GECOM release said that the lists must be submitted to the returning officer for each LAA being contested between 10 am and 2 pm.
In Georgetown, lists will have to be submitted at Critchlow Labour College, Woolford Avenue, Georgetown. In Linden, the lists are to be submitted at Mackenzie Registration Centre (lower flat), 49 Republic Avenue, Mackenzie; in New Amsterdam at the New Amsterdam Registration Office; in Rose Hall, at the Rose Hall Primary School, Public Road; in Mabaruma at the Mabaruma Registration Office; in Anna Regina at the Anna Regina Registration Office, Takuba Lodge Compound; in Corriverton at the DC Building (upper flat), Public Road, Springlands; in Bartica at the Bartica Registration Office; in Mahdia at the Mahdia Registration Office; and in Lethem at the Lethem Registration Office, 2 Park Avenue.
The names of all the returning officers and venues for all 80 LAAs are available on the GECOM website.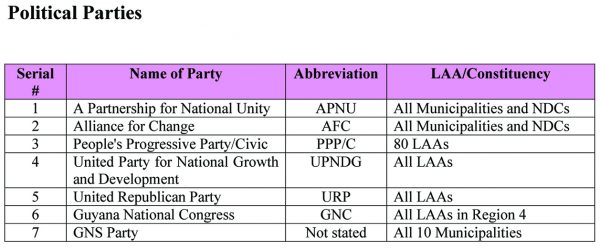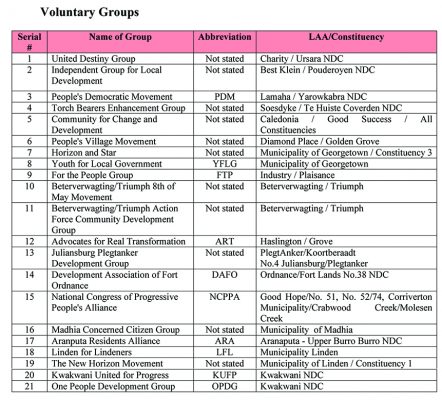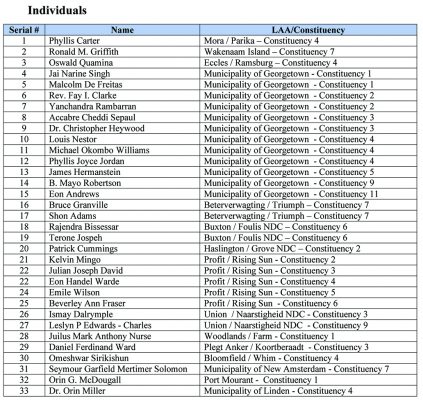 Around the Web