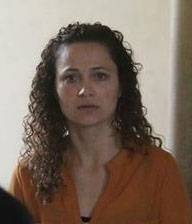 A city hotel owner is now a remanded prisoner after being charged with trafficking two Venezuelan nationals for labour.
Christine Rodrigues Gomes, 32, a Brazilian national, was read a total of four charges yesterday by Chief Magistrate Ann McLennan in Georgetown, where a Guyanese miner was also faced with charges over his alleged role in engaging the two Venezuelans.
The first charge against Gomes stated that between November 4th and November 28th, 2018, at the Ola Hotel, at Charlotte Street, Georgetown, she engaged in trafficking in persons; that is to say, she harboured a Venezuelan national by means of abuse of position of vulnerability for labor exploitation.
She faced a similar charge in relation to a second Venezuelan national.
The remaining two charges stated that between November 4th, and November 28th, 2018, at the Ola Hotel, at Charlotte Street, Georgetown, being an employer of the two Venezuelan nationals, Gomes knowingly confiscated their immigration documents for the purpose of trafficking.
She was not required to enter a plea to the first two charges as they were indictable. She pleaded not guilty to the other two charges.
Attorney Siand Dhurjon, who represented Gomes, told the court that his client is as much a Guyanese as anyone since she is married to a Guyanese national, has a son who was born in Guyana, and has been living in Guyana for the past 11 years.
Dhurjon added that the "so-called victims" were hired as cooks for the hotel but were not any good and were instead used as cleaners, for which they were paid $12,000 per week. The attorney was adamant that his client did not commit any crime and requested reasonable bail on her behalf.
Police prosecutor Gordon Mansfield, however, objected to bail being granted, while saying that there was no evidence before the court to establish that Gomes is a Guyanese. He added that there was a strong likelihood that Gomes may flee the jurisdiction or tamper with the witnesses.
Having heard from both the attorney and the prosecutor, the magistrate remanded the accused to prison and the matter was adjourned until January 3rd, 2019.
Meanwhile, Arnold Melville, also known as 'Arnold Forde,' 50, was read two charges in connection with trafficking the two Venezuelan nationals. It was stated that between November 4th and November 28th, at Eteringbang, Cuyuni River, he assisted Gomes and another to engage in trafficking two Venezuelan nationals.
Melville, a miner and a father of six, was represented by attorney Clyde Forde, who requested bail on his behalf. However, Mansfield once again objected to bail being granted to the accused, while noting the seriousness of the crime and the fact the Melville may tamper or interfere with the witnesses. As a result, the Chief Magistrate denied him bail and the proceedings were adjourned until March 19th, 2019, when hearings will be held at the Kamarang Magistrate's Court.                                
Around the Web