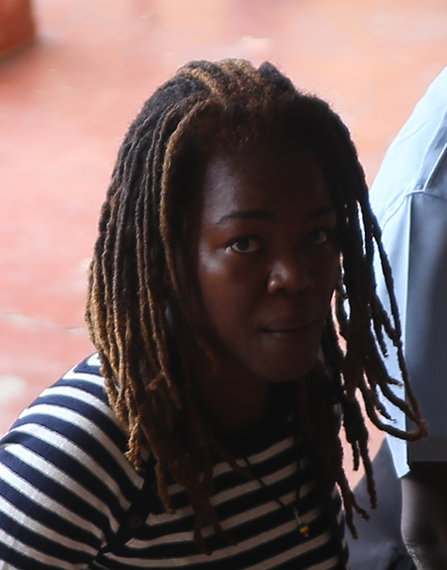 An argument over $600 led to a woman being charged yesterday with the attempted murder of a vendor.
It is alleged that Jewey Ferguson wounded Nigel George on December 7th, at Bourda Market, with intent to commit murder.
Ferguson, 34, a vendor of 38 Victoria, East Coast Demerara, was not required to enter a plea to the indictable charge.
Police prosecutor Gordon Mansfield told the court that the accused and the complainant are known to each other since they both are vendors at Bourda Market. The prosecutor added that George was given 10 packs of eddo leaves by Ferguson to sell and return the proceeds, which is $600, to her. The court heard that George failed to hand over the money after a while and on the day in question he was confronted by Ferguson about the money. An argument later ensued between the two over the money and Ferguson is alleged to have stabbed the man with a knife to his chest. George was rushed to the Georgetown Public Hospital, where he was admitted as a patient before later being discharged.
Prosecutor Mansfield made no objections to bail being granted but asked that conditions be applied.
George, when granted an opportunity, told the court, "I coulda dead. I had to do surgery. I asking for justice 'cause if I woulda dead I don't know what woulda happen," he added.
The Chief Magistrate, taking all factors into consideration, granted the accused her release on $250,000 bail. She was also ordered to report to Sergeant Miller every Friday and was placed on a bond to keep the peace.
The case is to be heard again on January 3rd, 2019.
Around the Web