Two men, who were last month found guilty of murdering a Williamsburg mandir watchman in January 2013, were yesterday sentenced to life imprisonment for the crime. 
The two men, Shivnarine Jainarine, also known as 'Sammy,' 23, of Ankerville, Port Mourant, Corentyne and Ryan Persaud, 21, of Williamsburg, Corentyne, Berbice, were on trial before Justice Priya Sewnarine-Beharry and a 12-member jury.
Following a lengthy trial in the High Court in Berbice, they were found guilty of murdering Jagdat Ramcharran, also known as 'Ronald,' 61, a security guard of Bloomfield, Corentyne. The murder occurred between January 6th and January 7th, 2013.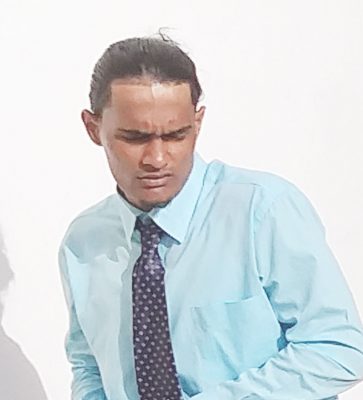 Both men broke into tears immediately after their sentences were handed down yesterday.
According to a probation report, which was presented on behalf of Jainarine, he was known as a quiet person in the community. The young labourer had no criminal record before this charge and was working to support his terminally ill mother, which, at that time, was taking a toll on him.
As it relates to Persaud, according to the probation report presented, he was reportedly charged with larceny and sentenced to one year imprisonment, before he was accused of murdering Ramcharran.
The judge while sentencing Jainarine, stated that he was present and did nothing to stop the crime being committed. She said that a message must be sent and she took into consideration, the trauma experienced by Ramcharran's family, especially his son.
Justice Sewnarine-Beharry explained that both men would be eligible for parole after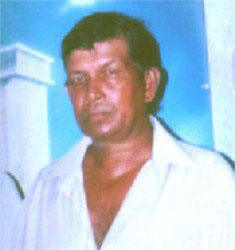 completing some 45 years of their respective sentences.
The body of Ramcharran, who was on duty at the Iskcon Sri Sri Radha Gokula Chandra Mandir at Block 6 Williamsburg, Corentyne, was found on the mandir's porch with his hands and feet bound and a cloth tied tightly around the neck at around 3am on January 7th, 2013.
A pair of pure gold 'murti' slippers, a bell and a tape recorder were discovered missing from the mandir and it was suspected that the bandits cut open a grill to gain entry to the building and ransacked it. 
The case was presented by State Prosecutor Mandel Moore, while attorney Mursaline Bacchus represented Jainarine and attorney Arud Gossai represented Persaud.
Around the Web