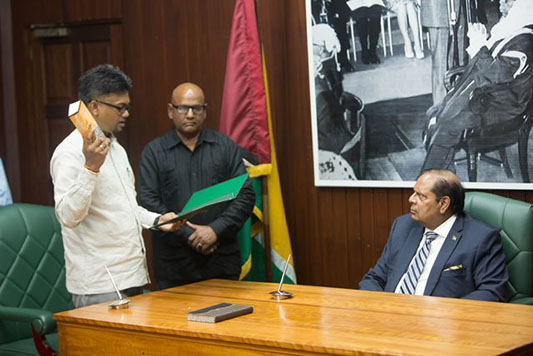 Prime Minister, Moses Nagamootoo, while performing the duties of President, swore in several Mayors and Deputy Mayors yesterday in the Credentials Room at the Ministry of the Presidency.
According to the Department of Public Information (DPI), after administering the oath of office, the acting Head of State encouraged the newly elected Mayors and Deputy Mayors to work closely with central government to enhance their townships.
"Some of the areas that you would be managing as townships, border on areas that are controlled by the central government so you have to work with your central government to promote those programmes that you have planned", he said, according to DPI.
The Prime Minister noted that having a town council in every administrative region allows for a decentralised model of government.
He also urged the elected officials to develop a sense of regional pride among their constituents.
The Prime Minister remarked that the new batch of Mayors and Deputy Mayors reflect Guyana's rich strands of diversity and ethnicity.
Around the Web