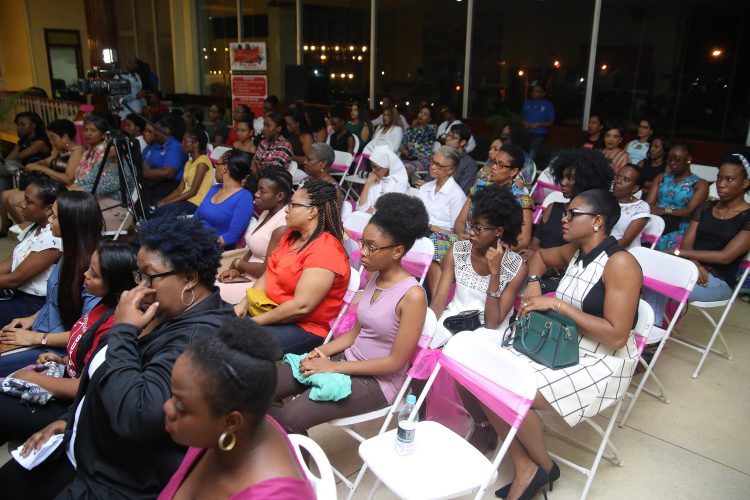 Empowerment should be more than a "buzzword" for women, social activist Akola Thompson said on Friday evening, when she was one of several women who spoke at "Emerging Through Generations," a female empowerment session held at the National Cultural Centre.
Part of the series of 'Brand Youth' empowerment events, "Emerging Through Generations" seeks to encourage and empower the young women who appeared on Conversations With Selwyn (CWS) Guyanese Youth series, which was facilitated by Anije Lambert, co-producer of the Guyanese Youth in Review series.
The event focused on women since it was the organiser's opinion that there needs to be an elevated conversation about the plight of women, who are still being treated as second class citizens in every sector in the region.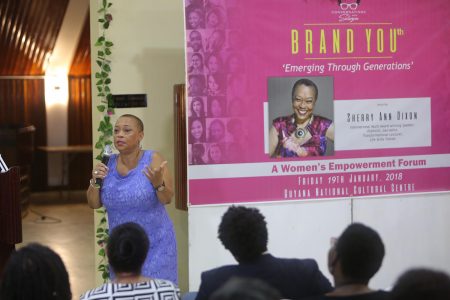 Moreover, there is the belief that there needs to be a change in attitude toward women; a change from the same way of doing business, to a way which includes women's participation and contributions to all aspects of national life.
Thompson, in sharing her perspective, emphasised the need for better approaches to be taken in empowering women since she believes that the term "empowerment" has and continues to be thrown around so often without actual merit, thus resulting in very little real empowerment being done.
"Over the past few years, 'Empowerment' is a word that has become increasingly present in our politics, books and television screens. It has slithered into the worlds of advertising and consumerist culture…We were bearing witness yes, but how many of us were actually being empowered? With increasing popularity around women's liberation, several elements of feminism have been incorporated into popular culture and political movements," she posited.
"The ideas of liberty are shrunk, filtered, mass-produced and then promoted aggressively in the media. This is not done by mere coincidence, there is vested interest in ensuring women's movements never move past catchy sound bites and hashtags," Thompson added.
She further noted that while the conditions of women have drastically improved over the last few decades, the progress made has been anything but holistic, adding that often time society becomes complacent with the progress that has already been made and loses the motivation to achieve more,  even though a large population of women continued to be systematically discriminated against.
"The conditions of women have drastically improved, yes; the things I am theoretically able to do now would not have been possible had I been born in another time. However, significant barriers in the homes, education system, justice system, business and health sectors still see women being disadvantaged. Our bodies and sexuality are monitored to the point where it is often necessary to ask is whose body is this really. Progress should not make us complacent and blind to the significant inequalities that exist in the social, economic and political systems around us," she posited.
Thompson continued, "When we think of empowerment we should not only thing about glossed magazine covers of our few female leaders, we should recognise that while things such as economic participation is good, mere participation is not empowerment. Way too often participation is in direct opposition to it, we should not settle for merely sending the elevator back down, the empowerment we should remember is about sustained resistance at every level. It is not tokenism and buzzwords."
To remedy the situation, however, the young woman shared her belief that paid domestic work, economic opportunities, educational programmes, safe and easily accessible abortion services, political power and mobilisation, are just a few of the things that would actually serve to empower women.
Meanwhile, keynote speaker of the event Sherry Ann Dixon shared with the gathering her journey, moving from being a secretary at a bank in London to a celebrity makeup artist, before becoming an internationally recognised journalist, author and global transformational life coach.
She spoke of doing hair dressing on the side while attending beauty school and functioning as a mother and a wife, all the while working to become the person she envisioned herself to be. "You must always challenge yourself, you must always say am I good enough and then you learn a little bit more and then you come to things like this and you get empowerment and then you go off to do something else. You are never to stay here, always keep challenging yourself," she shared.
"The journey doesn't stop, keep on evolving, keep on being powerful, keep on being awesome but most importantly, give back. Give back to the youth and helping them on their way up as you go up," Dixon added.
Other speakers at Friday night's event included Christine Gaara DeCambra of 'Everything Makes Craft,' Evie Kanhai-Gurchuran of the Java Coffee Bar, Christine Gooding of Market Square, Samantha Sheoprashad and Anika Abel Rose.
Comments
An electrical contractor of Enmore/Hope, East Coast Demerara, who was robbed and shot about 1 pm today at Foulis, ECD, is presently admitted in a stable condition at a private medical institution in Georgetown, the police said today.

The recent poisoning of 18 bearing coconut trees by persons at Hope Estate was today condemned  by Minister of Agriculture, Noel Holder.
The Guyana Police Force is informing members of the public that in order to facilitate activities relating to the Mashramani float parade 2018 the following intersections will be closed to vehicular traffic from 6:00h until the end of the days' activities;Camp Street & Thomas land Albert Street & Wooldord Avenue Sandy Bobb & Vlissegen Road Sandy Bobb & J.B Singh Barr Street & Vlissengen Road Dowding & Vlissengen Road Station Street & Vlissengen Road Lamaha street & Vlissengen Road Woolford Avenue & Vlissengen Road Woolford & J.B Singh Anira & Irving Streets Laluni & Irving StreetsThe Following roads will also be closed to facilitate the float parade; u  Crown & Irving streets u  Almond & Irving Streets u  Forshaw & Irving Streets u  Church Street & Vlissengen Road u  North & Vlissengen Roads u  Regent Street & Vlissengen Road u  South & Vlissengen Road u  Brickdam & Vlissengen Road u  Homestretch Avenue & Vlissengen Road u  Hadfield & Vlissengen Road u  Mandela Avenue & Vlissengen Road  

(Trinidad Guardian) Joint police and Defence Force patrol camps are remaining in East Port-of-Spain permanently and will be supplemented as necessary, Minister in the Office of the Prime Minister Stuart Young says.

Auditor General Deodat Sharma says that he is awaiting some information from Homestretch Development Inc (HDI) before he completes his investigation of the controversial billion-dollar D'Urban Park Development Project.