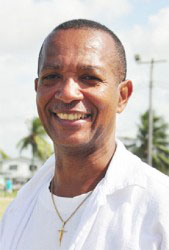 The Athletic Association of Guyana (AAG) has confirmed its list of athletes picked to represent the nation at the 2018 Commonwealth Games.
This year's Games take place from 4-15 April in Gold Coast, the fifth time it's being hosted in Australia.
According to President of the AAG, Aubrey Hutson, Olympians, Winston George and Troy Doris, national javelin record holder, Leslain Baird, Emanuel Archibald along with the Hooper sisters, Natricia and Natrena will represent Guyana at Track and Field Down Under.
Hutson explained that the six athletes were chosen based of their potential medal prospects.
George, 30, lowered his national 400m record last July. With a much higher calibre of opponents in Australia, he could potentially run faster than the 45.16s he posted at the National Track and Field Centre.
Doris, the national triple jump record holder and finalist at the 2016 Olympics has the experience of performing on the highest stage. The US-born jumper is perhaps Guyana's best bet of medaling at the Games.


Baird has been brimming with confidence since breaking the national record twice this year. The 30-year-old is in impeccable form, breaking his own record just six days ago in Trinidad with throw of 74.76m.
The Jamaican based duo of Archibald (100m and long jump) and Natrena Hooper (high jump) have impressed the AAG's Selection Committee with their exploits in the Land of Wood and Water' and were rewarded with places on the team.
According to Hutson, the USA-based Natricia Hooper, will compete in long jump event.
The Gold Coast 2018 Commonwealth Games (GC2018) will welcome more than 6,600 athletes and team officials from 70 Commonwealth nations and territories to the Gold Coast and event cities Brisbane, Cairns and Townsville, to share in the celebration of sport, entertainment and culture.
The largest sporting event to be staged in Australia this decade, GC2018 will feature the largest integrated sports programme in Commonwealth Games history, comprising 18 sports and seven Paralympic sports disciplines.
Around the Web