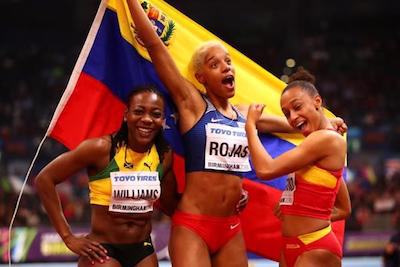 BIRMINGHAM, England, CMC – Jamaican Kimberley Williams and Trinidad & Tobago's Deon Lendore increased the English-speaking Caribbean's tally to three at the IAAF World Indoor Championships on Saturday.
Williams' second place finish in the women's triple jump with a personal best leap in the morning session on the third day of the Championships gave Jamaica their second silver of the meet, following Danniel Thomas-Dodd's historic medal in the women's shot putt the previous day.
Lendore captured the two-island republic's first medal of the Championships in the evening session, when he landed a bronze in the men's 400 metres.
Williams, the bronze medallist at the previous Championships in Sopot, Poland, led the women's triple jump with a lifetime best mark of 14.48 metres until Yulimar Rojas of Venezuela produced a mark of 14.63m with her fifth-round effort to land the gold medal.
Having set her season best mark of 14.16m in Birmingham as a guest of the British Championships a fortnight ago, the 29-year-old Jamaica also improved on that mark five times during the competition which fielded 17 starters – and looked a sure bet for the gold until Rojas' late response.
"I'm excited as I was able to upgrade on my jump from bronze last time to silver," said Williams, whose previous indoor best of 14.39 was set in Sopot four years ago.
"I had two personal bests out there so I'm glad I put a decent series together. I was leading for a while, but I couldn't respond, that's just how it goes in triple jump – I have to work harder next time to get a gold."
Lendore benefitted from the disqualification of Spain's Oscar Husillos and Luguelin Santos of the Dominican Republic for lane violations to clinch the bronze, edging Aldrich Bailey, Jr of the United States 46.37 seconds to 46.44.
It was a gratifying finish for the Lendore, who brought back memories of him holding off British anchor Martyn Rooney in the men's 4×400 final at the 2012 London Olympics to clinch the same colour medal for T&T.
Pavel Maslak of the Czech Republic became the first three-time winner of the men's 400 at these championships, when he clocked a season's best 45.47 and was well clear of American champion Michael Cherry, who clocked 45.84 who took silver.
Husillos was first across the line with a 44.92 championships record, but his surprise reign was short-lived following his disqualification, the same fate that befell Santos, the 2012 Olympic champion, who chased him over the entire second lap, paving the way for Maslak's historic triumph following his victories in Sopot in 2014 and Portland two years ago.
Their performances followed a historic silver medal for Thomas-Dodd, who became the first Jamaican woman to win a global medal in a throwing event.
In a ding-dong battle with eventual winner Anita Marton of Hungary and world champion Gong Lijao of China, Thomas Dodd emerged with a putt of 19.22 metres on her third throw which helped her secure the medal.
"There is no way to explain how I am feeling," the 25-year-old Thomas-Dodd told reporters afterwards. "I wanted a PB and that's all I was hoping for, but to come away with a PB and a medal, it's a bonus."
The Jamaican opened with 18.92m to take an early lead and improved to 18.95m in the second round before she was overtaken by Lijiao with the very next throw of the competition, the Chinese athlete sending her shot out to 18.98m.
After winning medals at seven of her eight most recent major championship appearances, Marton followed up her first two throws of 18.29m and 18.30m with a world-leading 19.48m.
Thompson-Dodd consolidated with her medal-winning putt and little happened in rounds four or five before the competition ended with the trio all clearing 19 metres.
Gong – who had resumed training just six weeks ago after suffering a knee injury this winter – rounded out her series with a season's best of 19.08m and Thomas-Dodd ended with 19.07m.
But world silver medallist Marton – as she has done during five of her past seven medal-winning performances – saved her best throw for the final round and sent her sphere out to a world-leading national record of 19.62m.
Around the Web