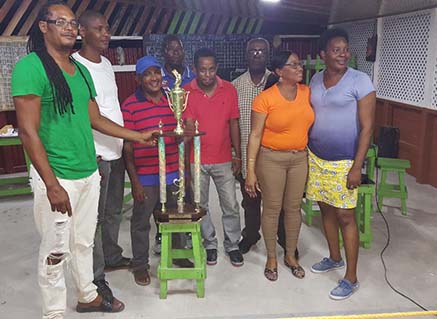 Rage, with 75 games, defeated Spartans and Phantom with 73 games each last Sunday to win the
Richard `Sadist' Mittleholzer 47th birthday anniversary dominoes tournament at the Turning Point Sports Club.
Some 17 team participated in the two-day competition which commenced Saturday.
Spartans was adjudged the runners-up after scoring seven sixes compared to Phantom's five.
For the win Rage took home $150,000 while the second and third placed teams received $80,000 and $40,000 and trophies respectively.
The Most Valuable Player was Solomon Caine of Phantom with 17 games. He received $10,000 while the best female player was Sharon Jerome of C6, who made 53 of a maximum 54 games. She was the recipient of one five pennyweight gold ear ring compliments of YK Investments.
In closing remarks, Mittleholzer thanked all the participating teams and sponsors and promised that the tournament would become an annual affair.
Other sponsors were Grill King and Trophy Stall.
Around the Web