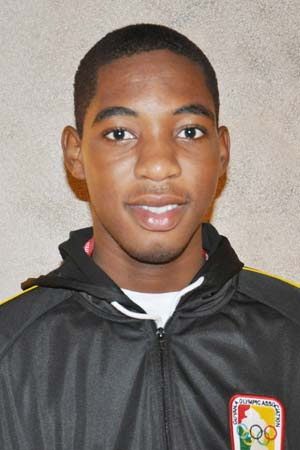 Guyana's table tennis players endued a day of mixed fortunes in the singles category of the Commonwealth Games currently being played on the Gold Coast of Australia but Trenace Lowe and Natalie Cummings in the women's singles and Christopher Franklin and Shemar Britton all advanced to the next round  after placing second in their groups.
Lowe was the first to take the table and lost her first match to Karen Lyne of Malaysia 1-4 after claiming the first set 12 -10.
She then dropped the following three 5-11, 11-13, 9-11.
Lowe's second encounter of the day saw her overcoming Xuan Li of Fiji by a 4-1 score-line to underline her day of ups and downs. She won the first 11-9 and dropped the second 10 – 12 before winning the next three 11-7, 11-4, 11-6.
Cummings also endured a topsy-turvy day. She disposed of Neema Mwaisyula of Tanzania 8-11, 11-5, 11-5, 7-11, 11-2, and 11-2 but then dropped her next match against Ying Ho of Malaysia 7-11, 11-9, 11-5, 11-6, and 11-7.
Priscilla Greaves, the other Guyanese female competitor on show, dropped both of her matches on the day.
Greaves first came up against Sanjana Alix Ramasawwy of Mauritius and lost 1-11, 6-11, 11-7, 7-11, 11-13. Her second encounter against Alicia Cote of Canada went 5-11, 5-11, 4-11, and 3-11.
In the men's singles Franklin, in his first match, defeated Romano Spencer of St Vincent and the Grenadines 4-0, (11-5, 11-4, 11-2 and 11-5).
In his second match however, he lost to Brian Chan Yook Fo of Mauritius 5-11, 11-7, 8-11, 6-11, 4-11.
Britton defeated Masoud Mtalason of Tanzania 4-0 but then lost against Antoine Bernadet of Canada in a grueling match which he lost 3-4.
Britton won the first two sets 11-8, 11-5 before dropping the next three 11-6, 11-3, 11-9. He took the sixth 15 – 13 to set up a decider, which was won by Bernadet 11-3.
Nigel Bryan, the final Guyanese on show in the single category, lost both his matches, first 2-4 to Bernard Sam of Ghana and then 1-4 to Tyrese Knight of Barbados. (Royston Alkins)
Around the Web