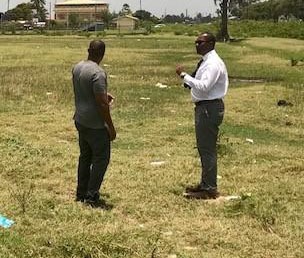 The Guyana Football Federation (GFF) has secured a 30-year lease of the Vryman's Erven Municipal Ground, New Amsterdam with the intention of developing the site as a training facility.
The lease was granted on April 10th, by the Municipality's Town Council. The aim of the proposed facility, which is expected to be similar in nature to the GFF National Training Centre at Providence, is to develop talent in the region.
According to an official release from the federation, the visit to the venue is part of the GFF's Strategic Plan 2017-2021, which is to invest in at-least one all-weather facility in each of the regional member associations.
President Wayne Forde said, "Establishing football-specific venues in each of the GFF's RMAs is of critical importance to the implementation of the National Football Strategy."
He added, "The GFF intends to construct an all-weather facility in each RMA, which will be used as a home for the Academy Training Centre and create revenue-generating opportunities for the Association."
Around the Web