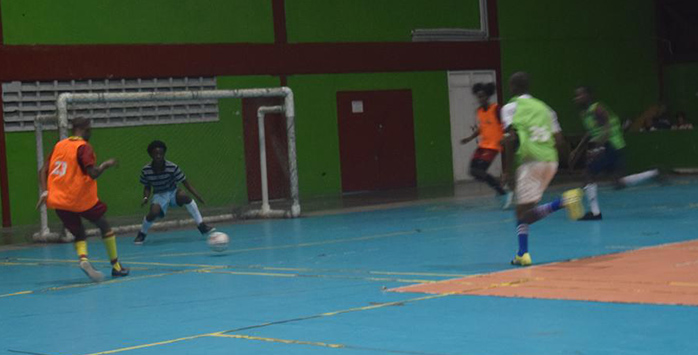 Defending champion Gold is Money, Future Stars, Albouystown and Back Circle secured contrasting wins when the 6th GT-Beer 'Keep Ya Five Alive' streetball championship continued on Thursday at the National Gymnasium, Mandela Avenue.
A depleted Gold is Money side edged the experienced Alexander Village 2-0 on penalty kicks, after regulation and extra time ended 3-3. 
Randolph Wagner, Quacey Weekes and Michael Pedro scored in the 11th, 20th and 31st minute respectively.
For Alexander Village, Shem Porter bagged a double in the eighth and 12th minute, while Leon Yaw scored in the 28th minute.
On the other hand, Albouystown made light work of Upsetters 6-2. Tevin Curry tallied a double in the eighth and 16th minute, with Omari James scoring twice in the fourth and 20th minute.
Adding goals in the 19th and 23rd minute each were Seon Turney and Marlon Nedd respectively. For the loser, Tefon Daly and Tevon Tappin scored in the 14th and 21st minute each.
Similarly, Future Stars dismantled Vryheid's Lust 6-2. Jamal Cozier smashed a helmet-trick in the sixth, seventh, 17th and 18th minute, while Akosi Jarvis bagged a brace in the 22nd and 23rd minute.
On the other side, Akeem Thomas and Seon Orlando scored in the 16th and 20th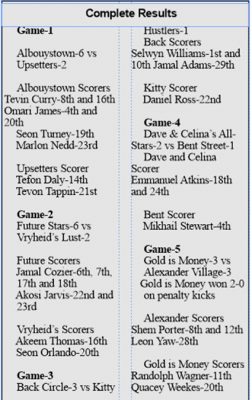 minute apiece. Also, Back Circle downed Hustlers 3-1. 
Selwyn Williams bagged a double in the first and 10th minute, while Jamal Adams scored in the 29th minute. For the loser, Daniel Ross scored in the 22nd minute. 
Meanwhile, Dave and Celina's All-Stars needled Bent Street 2-1. The aforesaid winners now join Tiger Bay, Silver Bullets, Showstoppers, North East La Penitence, Ol Skool Ballers, Sparta Boss, Rhythm Stars, Agricola, Swag Entertainment, Sophia and Leopold Street in the round of 16 stage, which starts today [Saturday] at the same venue.
Winner of the competition will pocket $600,000 and a trophy, with the runner-up copping $300,000 and the respective accolade.
On the other hand, the third place finisher will collect $150,000 and a trophy, while the fourth place unit receives $75,000 and a trophy. Below features the complete list of results.
Around the Web