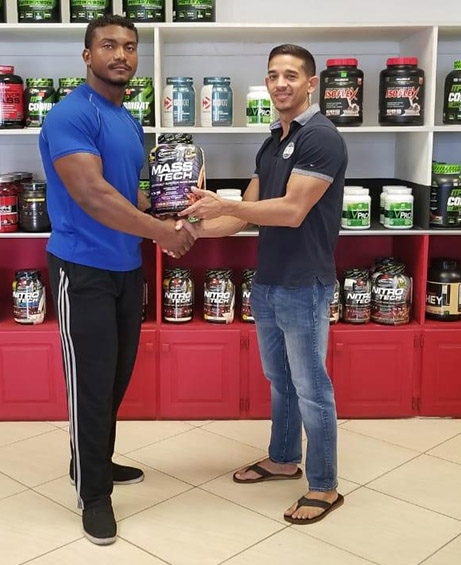 Even some of the strongest men need support.
Hence, leading supplement and gym equipment supplier, Fitness Express has come to the aid of one of Guyana's strongest men, Carlos Petterson.
Recently, CEO of the entity, Jamie McDonald recently made timely donation to the strong man.
McDonald who supports numerous athletes on a year-round basis, supplied Petterson with supplements and monetary support to help boost his chances of medaling at the 16th Caribbean/NAPF Championships scheduled for August 2-4 in Mexico.
Petterson will compete in the 93kg class and has his sights set on breaking records.
The 24 year-old who expressed his appreciation for McDonald's kind gesture, stated that he is aiming to break the Squat World Record which stands at 303kgs as well as the deadlift record in Mexico.
Earlier this year, Petterson set a national equipped Deadlift record at the Guyana Amateur Powerlifting Federation (GAPLF) Intermediate Championships of 320kg; he also set a new Total record.
To his credit Petterson has quite a resume in powerlifting. He is the Pan American Junior Deadlift and Total record holder; Commonwealth Deadlift record holder as well as the South American Squat, Deadlift and Total record holder.
Around the Web