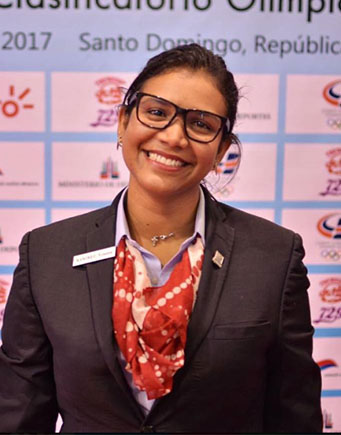 A basic umpiring course run by the Guyana Table Tennis Association (GTTA) in collaboration with and under the auspices of the International Table Tennis Federation gets underway today at the Cliff Anderson Sports Hall.
According to a release from the GTTA, the course will be conducted by ITTF Latin American Rules Judging Officiating and Umpires Director Ms. Yoanna Ramirez of Colombia.
The course, which ends Saturday, is part of the ITTF and GTTA's developmental agenda and successful applicants will be able to sit the ITTF International Umpires programme after one year, General Secretary of the GTTA Linden Johnson told Stabroek Sports yesterday.
Ramirez arrives from Colombia where she assisted in coordinating the Central America and Caribbean Games table tennis competition, the GTTA release stated.
"The ITTF basic umpire's course umpires course is self-funded by the GTTA and lobbied for by the GTTA in view of maximizing the benefit of the expert coming to Guyana to conduct the IU course so as to have more persons on the certification path and a greater nucleus of umpires. Basic umpires must be over 17 years old to receive certification," the GTTA release stated.
"This is the first time in Guyana's history that the International Umpires course is being offered and hosted in Guyana," the GTTA release stated adding that the course gives Guyana the opportunity to create an umpiring structure and create incentives for umpires to have successful careers.
ITTF Umpires Development Programme Guyana Schedule:
Activity: URC Basic Umpire Course Self-Funded GTTA. Dates: 25th July (afternoon 330 pm) +26th 9am to 5pm) +27th (9am to 12pm) July 2018. Place: Cliff Anderson Sports Hall Georgetown (GUY). Expert: Yoanna RAMIREZ (Colombia).
  Activity: URC International Umpires Course + IU exam. Dates: 27th (afternoon 1pm to 6pm) +28th (9am to 5pm) July 2018. Place: Georgetown (GUY Cliff Anderson Sports Hall and National Racquet Centre). Expert: Yoanna RAMIREZ (Colombia). 
Around the Web