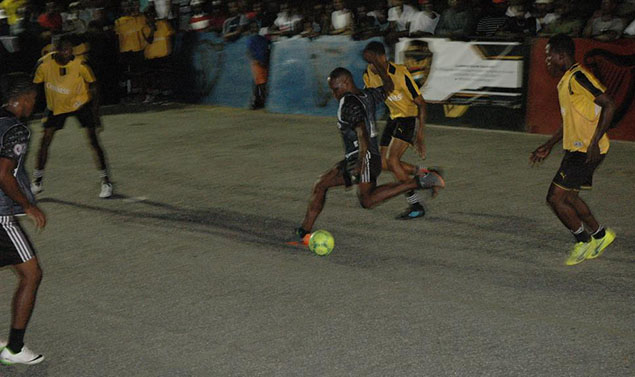 A new champion will be crowned in the Guinness Cage Streetball Championship after Leopold Street eliminated holders Ol Skool Ballers in the quarterfinal to setup a titanic clash with Sparta Boss for a place in the coveted finale.
 The clash, which captivated the immense crowd that descended on the Haslington Tarmac on Saturday, highlighted a thrilling night of action which also witnessed home side Uprising, battling against all odds to remain the sole team from the East Coast Demerara region to secure a semi-final berth.
 Following a scoreless regulation time period, Leopold Street edged Ol Skool Ballers 1-0 on penalty kicks. It was the second win for the traditional giant, who edged Albouystown in the earlier round of 16 clash.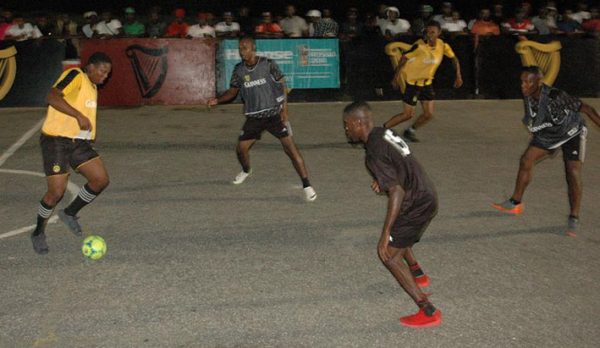 They will now meet eternal foe Sparta Boss in what promises to a fierce showdown on Friday after the North East La Penitence based unit, ousted Avocado Ballers by a 1-0 score line.
 Jermin Junior netted in the ninth minute to separate the teams. They also defeated of Back Circle by an identical margin when the dependable Eusi Phillips found the back of the net in the ninth minute.
 However, the evening also belonged to host Uprising, who defeated Blazers of Beterverwagting [BV] 3-2 on sudden death penalty kicks after normal time ended scoreless in their quarterfinal affair.
 The youthful outfit was not overawed by the momentous occasion and they duly held their nerve to defeat their seasoned opponent in a marathon shoot-out which last six rounds and had the crowd on the edge of their proverbial seats.
 They will now face-off with traditional contender Broad Street for a place in the championship match.
 Broad Street squeaked past North East La Penitence 1-0 in the quarterfinal section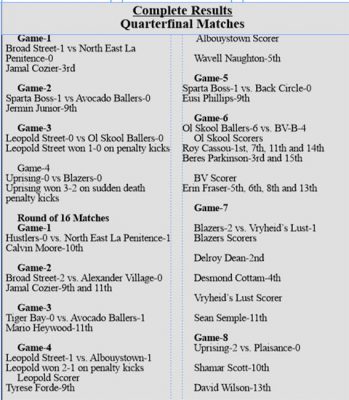 inspired by a third minute strike from Jamal Cozier.
 Earlier in the night, Cozier, the event's joint leading scorer with six goals, tallied a double in the ninth and 11th minute to defeat veteran Alexander Village side 2-0.
 The semi-final and championship matches will be staged at the same venue on Friday. The tournament is being organized to forge integration among the participating communities in an effort to create a better understanding among its inhabitants.
Among the entities in support of the cause are: Banks DIH under its Guinness and Power Wine brands, Clarks footwear giants Chetsons, E- Networks Inc., KSM Investments, Yhip's Bakery, Brass Aluminum & Cast Iron Foundry [BACIF], Ray's Auto Sales, Insurance Brokers Guyana Limited [IGBL], Y.K. Investments, Trophy Stall, Express Shipping, Woodpecker Products, National Sports Commission, 'C' Division of the Guyana Police Force, Jai Signs & Auto Designs, Gaming Authority, Julius Variety Store and C & C Prestigious Styles. Below features the complete results of matches.
Around the Web