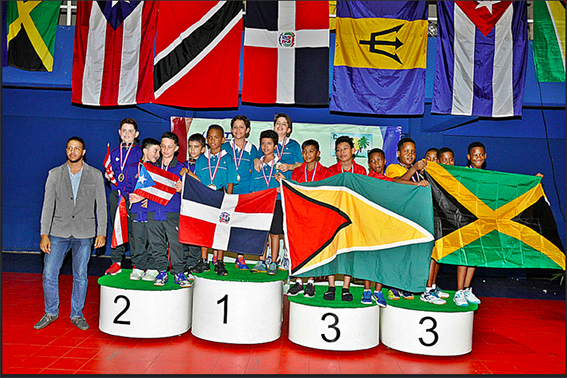 Young sensations Colin Wong and Dhanesh Persaud added to Guyana's success at the ongoing Caribbean Mini-Cadet and Pre-Cadet championships, currently being played in the Dominican Republic, after capturing bronze in the Boys Under – 11 doubles category. 
 The pair, after receiving a bye in the first round, later went on to defeat Jamaicans Gari White and Brian Blake 11-5, 3-11, 11-5, 11-6 to move into the semis. 
 There, they were defeated by the eventual winners, the Dominican Republic duo of Rafael Cabrera and Ramon Vilar 13-14, 8-11, 8-11 to capture bronze. 
 Meanwhile, the Girls Under – 11 team comprising Jasmine Billingy and Akira Watson in the first round, defeated Shanil Darley and Larimar of Dominican Republic 11-2, 11-10, 9-11, 11-5, before losing to Liara Rivera and Lucianys Gomes 6-11, 2-11, 5-11 in the following round.
 The other Guyanese Under – 11 pair of Samara Sukhai and Deia Datt, failed to get past the first round after losing to Jamaicans Jada Allwood and Anna – le Smith 7-11, 7-11, 8-11 in their opening match. 
 Singles
 Yesterday's proceedings saw Wong and  Persaud moving into the round of 16 after impressive showings in the group stage of the Boys Under -11 singles category. 
 Wong topped his group after defeating Bruce Dillon of Trinidad and Tobago 11-6, 11-4, 11-5, and Alvin Vazquez 3-0, to emerge unbeaten, while Persaud finished in second after defeating Jayden Ebanks of Jamaica 11-6, 8-11, 11-2, 11-7, and Ivan Vila of the Dominican Republic  11-1, 11-1, 11-7. His lone defeat came against Ramon Vila who topped the group. 
 Guyana's Malachi Moore failed to advance to the round of 16 after finishing third in his group. 
 In the Girls Under – 11 category, only Jasmine Billingy advanced to the round of 16 after finishing second in her group. 
 The Under – 13 singles results were not available as of press time. 
Around the Web