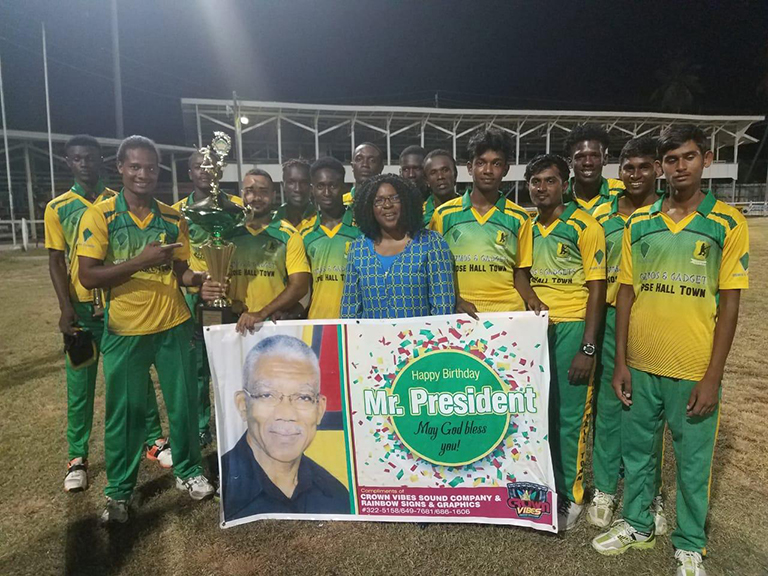 Rose Hall Town Gizmos & Gadgets on Wednesday last successfully defended 62 against Albion Cricket Club at Albion to lift the Berbice Cricket Board Patron Green Economy 10/10 tournament organized by the Rose Hall Town Youth and Sports Club.
Gizmos and Gadgets won the toss and took first strike but lost Andy Naidu for just one run in the third over, falling to Kevin Umroa. Clinton Pestano was then stumped off of the left arm spinner as the visitors fell to 22-2 at the half way stage.
However, they mustered up sterling contributions from Kevin Sinclair and Kevlon Anderson who stroked 14 and 19 runs respectively to help their side reach 61-7 from the allotted overs. Umroa finished with 2-6 while Gudakesh Motie bagged 2-17 and Jonathan Foo and Gouvrav Ramesh took one wicket each.
Pestano returned with the ball, trapping Ritesh Umroa leg before wicket in the first over while Eon Hooper removed Foo in a failed attempt to clear the long on boundary to reduce the hosts to 9-2 at the second over.
This set the foundation for Junior Sinclair to tear into the middle order, bagging 3-7 from two overs which helped in Albion's restriction to 47 and losing by 14 runs. Kevin Umroa was the only batsman to manage double figures, scoring 11.
Earlier in the day, Rose Hall Canje defeated Blairmont Centre Cricket Club by 21 runs to cop the third prize of $50 000.00 and trophy. Rose Hall Canje batted first after winning the toss and were able to reach 84-6 from their 10 overs as veteran Balram Samaroo rolled back the years with an attractive innings of 50 not out which included three fours and three sixes and also a final over that cost 26 runs.
In response, Blairmont Community was bowled out for 63 from 9.2 overs. Only Imran Khan reached double figures with 16 while Totaram Sooknanand claimed 3-15 for Rose Hall Canje to set off wild celebrations.
President of the BCB and Secretary/CEO of the Rose Hall Town Youth & Sports Club, Hilbert Foster hailed the Patron's 10/10 tournament as and resounding success and stated to loud applause that Berbice Cricket was on a path of reclaiming its former glory.
Junior Minister of Health Dr Karen Cummings stated that she was very impressed with the discipline of all four teams and praised both the Berbice Cricket Board and the Rose Hall Town Youth & Sports Club for organising the Tournament in honour of His Excellency, President David Granger 73rd Birthday Celebration.
Minister Cummings spoke on the importance of discipline in sports and stated that President Granger would be delighted at the success of the tournament in his honour. Junior Sinclair was named Man of the Match and received a financial reward and trophy while the winning team, flossing finalist and third and fourth placed prizes were $150 000.00, $75 000.00, $50 000.00 and $25 000.00 respectively.
The Rose Hall Town Youth & Sports Club expressed gratitude to the Berbice Cricket Board for organising the tournament while the contribution of the Ministry of the Presidency, Minister of State Joseph Harmon, Bakewell, S. Jagmohan Construction, K.P. Thomas and Sons, Annirud Ramcharitar, Nand Persdaud Co. Ltd, V NET Communications, Star Party Rental, Bissan's Trading, John Fernandes Ltd, 4R Bearings, J.B. Brothers, Fyuse Hussain, Len's Craft, Fitness Express and Survival Supermarket.
The Rose Hall Town Youth & Sports Club under the Patron's Fund also donated 25 bicycles, 20 cricket bats, hundreds of school bags to less fortunate youths and also provided assistance to several NGOs with sponsorship.
Around the Web