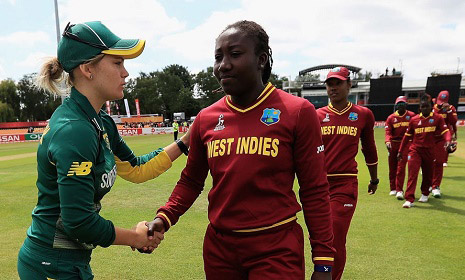 BRIDGETOWN, Barbados  CMC – South Africa captain Dané van Niekerk has acknowledged her side is braced for a tough tour of the Caribbean but said both the experienced and younger members were eager to show their worth against the tough hosts in challenging conditions.
The tourists touched down here Monday for a three-match One-Day International series against West Indies Women at Kensington Oval starting next Sunday, which will be part of the ICC Women's Championship.
They will also face West Indies in a five-match Twenty20 International series bowling off September 24 at the historic venue here, with the last four matches scheduled for the Brian Lara Stadium in Trinidad.
"I think this is going to be a tough and challenging tour," said van Niekerk.
"It's located in absolute paradise of course – you won't get to see more beautiful places when on a cricket tour but when it comes down to the business of cricket, the West Indies will test the athlete in you like very few places will. "The heat, the humidity, their very unique pitches – it all comes down to one package that is designed to demand a lot out of a player and it's why I'm really looking forward to seeing what the seniors do when they are presented with this type of challenge.
The 25-year-old van Niekerk, a leg-spinning all-rounder, is one of the most experienced members of the squad with 95 ODIs and 68 T20Is under her belt.
She has been joined by seasoned wicketkeeper-batsman Mignon du Preez who boasts 115 ODIs, including two centuries, and fast bowling all-rounder Marizanne Kapp who has played 93 one-dayers.
There are four academy graduates in Robyn Searle, Tumi Sekhukhune, Saarah Smith and Faye Tunnicliffe, who was called up last minute to replace the injured Trisha Chetty.
Van Niekerk hopes the combination of youth and experience can pay dividends for the South Africans. "I'm going to look to them (experienced players) to help lead the youngsters and provide guidance in the change-room," she explained.
"We have four players who have toured here and another handful of senior players who have played all over the world and know what it's like to adapt to difficult conditions.
"We have been blessed with an exciting group of youngsters who are salivating at just the thought of getting started and we need to bottle that energy and distribute it wisely."
South Africa are seventh in the eight-team Women's Championship standings on four points, with West Indies one place above them in sixth on six points.
While the tourists are vying for qualification for the 2021 World Cup in New Zealand, they will also use the series to beef up their preparations for the T20 World Cup later this year, scheduled for Guyana, St Lucia and Antigua. Van Niekerk said South Africa were in an exciting period of their development and she was excited by the possibilities.
"It's really encouraging to see how much talent has come up in the last few years and that the CSA pipeline is developing some quality players," she pointed out.
"I'm looking forward to seeing what these girls do and the fact that each offers something different and unique to the team's needs, is even better. That, mixed with other young talent that we already have in Laura Wolvaardt, Riaisibe Ntozakhe and Zintle Mali is the stuff captains' dreams are made of.
"It's going to be a good headache for selectors when it comes to picking teams going forward."She added: "We have a lot to play for on this tour and I hope that the balance of youthful exuberance to experience will give us that 'X-Factor' that we're looking for because West Indies as a team in home conditions is going to be a big challenge."
SQUAD – Dane van Niekerk (captain), Chloe Tryon, Laura Wolvaardt, Lizelle Lee, Sune Luus, Mignon du Preez, Marizanne Kapp, Raisibe Ntozakhe, Masabata Klaas, Zintle Mali, Faye Tunnicliffe, Robyn Searle, Tumi Sekhukhune, Saarah Smith.
Around the Web