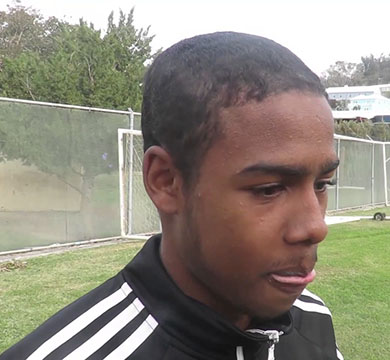 HAMILTON, Bermuda, CMC – Former Bermuda Under-20 forward Mazhye Burchall died in an early-morning road accident on Saturday less than 48 hours after helping his club side romp to a big cup victory.
Burchall was killed when he apparently lost control of his motorcycle which struck a wall in Paget parish at 4 a.m. on Saturday, police said.
The 20-year-old had a lively first half as his club side, Robin Hood, thrashed Somerset Trojans 7-1 in their Dudley Eve Trophy opener on Thursday night.
Despite Burchall's death earlier in the day, Robin Hood decided to go ahead with their Premier Division match against Devonshire Cougars on Saturday night. The scrappy match, the opening game of the league season, ended 1-1.
Before the kick-off players from Robin Hood and PHC Zebras, Burchall's former side, gathered on the pitch for a prayer vigil, which was followed by a minute's silence during which his jersey was placed on the centre circle.
"It was a tough decision but everybody wanted to play and felt that Mazhye would have wanted us to play," Robin Hood coach John Barry Nusum said.
"Sometimes football can be the remedy for life's ills. For us, it was a couple of hours to get away from the thoughts that had been in our heads all day.
"You could see we were in our own heads and a lot of things we were doing on the pitch were out of character."
One of Burchall's most memorable goals came in a 3-1 defeat against El Salvador in a CONCACAF Under-20 Championship match in San Jose, Costa Rica last year. With his side 3-0 down, Burchall took one touch to control Osagi Bascome's free kick and with the next fired into the top left corner.
"It was by far one of my best goals for the country," he said at the time. "I saw Osagi step on the ball and I realised that nobody was marking me, and so I gave him a little hint to drop it right where he did."
Burchall later went to England where he had trials at the FBT International Football Academy in Chesterfield.
Burchall's death was Bermuda's ninth road fatality of the year.
Around the Web