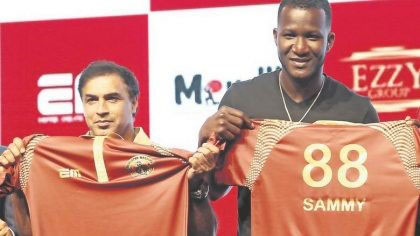 DUBAI,  CMC – Former West Indies skipper Darren Sammy is looking forward to working with head coach Robin Singh, as the two look to propel the Northern Warriors to victory in the T10 league.
Sammy, who will captain the Warriors in the tournament's second season, is familiar with Singh, as he has coached the Barbados Tridents for the last few seasons in the Caribbean Premier League.
"Robin has been part of cricket for a long time. He has played the game for India and was very successful at it," Sammy told Khaleej Times.
Singh's West Indies connections also appeal to Sammy, who said, "You know Robin was born in Trinidad, so he is West Indian as well. He is from the West Indies and he played for India. So, he is the typical West Indian."
Sammy said the fact that Singh had tasted much success with the Mumbai Indians in the Indian Premier League, as well as having led the Kerala Kings to the title in last year's inaugural T10 league, made for an exciting partnership.
"Of course, he has had so much success as a coach with Mumbai Indians. Also, his team (Kerala Kings) won the first edition of the T10 League. So, it's great to have him as the head coach of Northern Warriors," he said.
"I am looking forward to working with him for the first time. With his experience and strategy, I am confident our team will do very well under him. Obviously, our goal will be to win the tournament."
Singh, on the other hand, said Northern Warriors could gain from Sammy's experience.
"As a coach, you need to be evolving, just like a player needs to evolve.
It's important to get different ideas from different captains or people that you work with from different nationalities.
"For example, Darren is here. He has won T20 World Cups twice. That's no mean achievement. No other captain has done it," Singh pointed out. "Besides, he has played in all formats of the game across the globe. So, with his kind of experience, it also helps me to put things in the right perspective."
Around the Web