Kwakwani, Mackenzie High, the Government Technical Institute (GTI) and Marian Academy secured wins in the Under 19 section when Youth Basketball Guyana's 'Titan Bowl' commenced yesterday at the Cliff Anderson Sports Hall, Homestretch Avenue.
Kwakwani mauled Plaisance 78-16. Elijah David and Demarcus Adams led the rout with 15 and 12 points respectively. Similarly, Mackenzie High crushed St Roses 36-26. 
Shamar Savory led the Lindeners with 13 points with Tyrese Arthur their next best scorer on eight points. For the loser, Jaden Craig and Kahil Farrington netted eight and seven points each.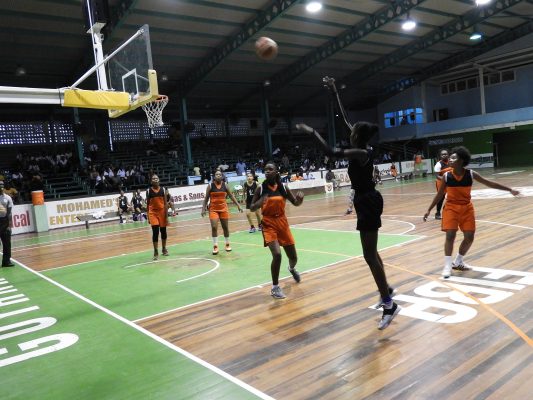 Meanwhile, GTI defeated Linden Technical Institute (LTI) 43-39. Anton Fileen and Jared Sears tallied nine and eight points for GTI while Daniel Lee top-scored with 12 points for LTI.
Also, Marian Academy needled the Bishops' High 23-20. Jether Harris bagged 11 points in the victory while Tyrese James chipped in with five points.
For the Carmichael Street side, Roydon Glasgow and Lamont Friday recorded nine and five points respectively.
In the girls division, Marian Academy downed Kwakwani 30-20. Jada Mohan and Aaliyah Singh led the winner with 11 and eight points apiece. For the loser, Shania Sears top-scored with 13 points.
The tournament, which continues today at the same venue, is sponsored by Edward B Beharry and Company Ltd, Banks DIH Ltd and the National Sports Commission.
Around the Web