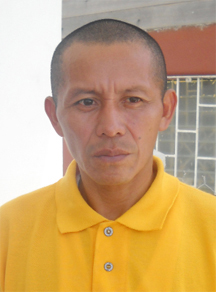 Toshao of Kurutuku, Region Seven, Solomon Lewis, was beheaded on New Year's Day, while his son was critically injured, after they intervened in a domestic dispute between Lewis' daughter and her husband.
The suspect, his son-in-law, has since been arrested.
Stabroek News was reliably informed that Lewis was brutally chopped about his body during the incident, which occurred around 4am Tuesday.
His son, Marvin Lewis, 27, who had one of his hands severed during the ordeal, remains critically injured.
Divisional Commander Kevin Adonis, informed Stabroek News that the suspect, who fled the scene in a boat following the incident, was arrested yesterday afternoon.
Adonis said a team of ranks was dispatched to the area to conduct further investigation, however, up to last evening they had not returned.
While details surrounding the incident remain sketchy, Stabroek News understands that the suspect was physically abusing his wife (Solomon's daughter), when Solomon and Marvin intervened in a bid to solve the problem.
As a result, the suspect armed himself with a cutlass and fatally chopped Solomon.
He then turned his attention to Marvin, resulting in him being injured.
The death of Solomon has sent the community of Kurutuku into a state of shock.
In a Facebook post, Assistant Projects Officer of the National Toshaos Council (NTC), Eyon Boyal, shared his views on the incident, which he said could have been avoided if continuous calls for the "instruments of protection" by Indigenous leaders did not go unheard.
 "This tragedy would have not happened had successive Governments given ears to our indigenous leaders for instruments of protection on their high risk job, i.e. managing their respective villages,", Boyal said in the post.
He said the request for guns, handcuffs and even police outposts or patrols have been made repeatedly at the annual National Toshaos' Conferences. "All governments officials (both present and past) would respond that your point have been taken down and no further action," the post further read.
The post added, "Toshaos, indeed need protection of all sorts since you are the father of the village, all villagers turn to your help."
Boyal said he has known Solomon since the year of 2012.
He described him as an "outspoken and straightforward" individual, who "doesn't take no for an answer."
Around the Web