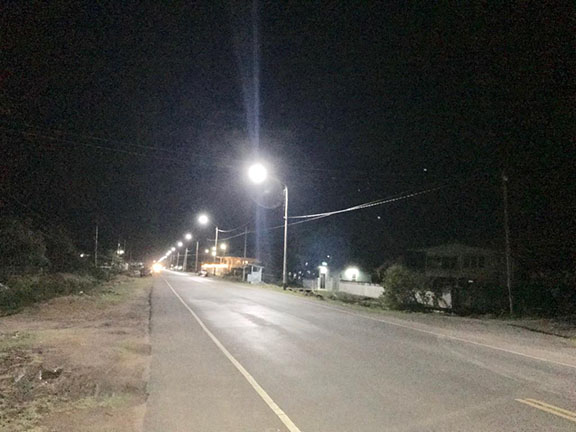 Another section of the Corentyne highway was recently lit up as the Ministry of Public Infrastructure (MPI) continues the installation of street lights along the thoroughfare.
Recently lit up was the section of the public road from Borlam Turn to Fyrish Road. Residents told Stabroek News that the lights were switched on New Year's Day. They have expressed gratitude to the government since they have been requesting road lights for years.
The project, which is being undertaken by the ministry's Traffic, Safety and Maintenance department, said the installation of street lights along the Corentyne highway began in 2016. The project is being done in phases. Throughout 2017, the No.19 road from Seawell to Bohemia and Adventure to Tarlorgie Farm have been lit up. Other villages between Number 35 and Moleson Creek have also benefitted from street lights.
The roadway is illuminated with LED highway lighting.
These areas in the past were known to be very dark and dangerous with animals wandering on the road, resulting in serious and sometimes fatal accidents. Many residents believe that with the roadway illuminated, drivers and pedestrians will have better vision, thereby reducing such accidents.
But while road users sang the ministry's praises for answering their call for improved infrastructure, several complained of the lengthy delay in repairing faulty lights.
A driver, Thakur Singh, told Stabroek News that the lights on the Canje Bridge linking New Amsterdam and the Corentyne have been off for several weeks and nothing has been done to have them repaired. To him, it is unclear if the authorities are aware of the non-functioning lights.
"I am a hire car driver and every night I drive here. The lights on the bridge are important and it should be a (priority) to have it fixed when it stop working… what is the use of giving us lights and they are not working," Singh lamented.
Stabroek News recently also observed several lights not working along the Number 19 roadway.
A January 2018 article from the Department of Public Information reported Kester Hinds, MPI's Projects Coordinator, identifying Cumming's Electrical Company as the company contracted to execute the installation of the lights in some areas.
Around the Web