and Alva Solomon
They hope. Hope that their wounds would heal, for justice, for their lives to be a little easier.  At times it is all they have; hope and memories.
Every day at around midday, Debra Gilkes grabs some clothes and walks around Bartica hoping to get some sales.


A few miles away, Raymond White can mostly be found at home, unable to do much for himself.
A year ago, Gilkes would have sat and had lunch, maybe with a friend. A year ago, she would have called her husband and they would perhaps have had lunch together. However, just about a year ago, on a day that is indelibly ingrained in her mind, she lost the father of her children, breadwinner and husband, Edwin Gilkes.


As for White, he would have been captaining a boat in the rivers that lead to and from Bartica. He cannot do so now.


In an instant on February 17 last year their lives changed drastically and dramatically. On that night a heavily-armed gang attacked the community, leaving twelve persons dead including three policemen. Several persons sustained gunshot wounds too. Killed in the attack were Bartica residents Edwin Gilkes, Dexter Adrian and Irving Ferreira; policemen stationed at the Bartica Police Station, Lance Corporal Zaheer Zakir, Constables Shane Fredericks and Ron Osborne. Deonarine Singh of Wakenaam; Ronald Gomes of Kuru Kururu; Ashraf Khan of Middlesex,


Essequibo; Abdool Yasseen; Errol Thomas of Tuschen, East Bank Essequibo; and Baldeo Singh of Montrose, East Coast Demerara, were shot execution style at the Bartica Ferry Stelling.
For their relatives the pain of their loss lingers even as some struggle to ensure that life goes on. Even though she has a regular job, her salary is barely enough to pay her home loan, so Gilkes vends during her lunch break.
Chores are difficult for White, who was shot in both hands and feet, and every day is spent waiting for surgery to repair shattered bones, that frustratingly never seems to arrive.


Melrose Allicock, who was shot in his heel, has been unable to go back to mining, because he cannot lift heavy weights anymore. Ferreira's, wife, Norma Valentine has managed to accept his death and cherishes the memories of the good times they had.
Barticians remember the day they were thrust into a horrific chapter they would have preferred had never been written. Several spoke with Stabroek News recently of the changes in their lives.


For Gilkes, her life with Edwin, who was 47 years when he was killed and at work as a security guard at the Bartica Banks DIH building, is a memory now but the pain lingers and surviving is a struggle that is made harsher by promises unfulfilled.
"Life change on the whole, you don't have that person anymore so you gotta fend for yourself," she says. Back in February 2008, on a night, where nothing had presaged an incident out of the ordinary, she was awakened by her sisters, who told her that Gilkes was shot and was at the Bartica Hospital. Unknown to her at that time, he was already dead.


To her, it was the manner in he met his death that was terribly saddening…"if he was sick, it would have been a different story", and it is this that she contemplates at times.
The aftermath has not been easy. The family had constructed a home in Bartica and the loan has to be paid off. Debra earns $36,000 and out of this $31,000 goes to the bank to pay the loan, while the remainder goes to another loan, which she has almost finished repaying. To survive, for the two hours that she has off for lunch each day, she goes out on the street and sells clothes. She says that it is difficult but given the high transportation costs and other expenses, she has no choice. "It can be really hard and tough," she said.
For a while, she had hoped that at least the loan they had taken to build their home would have been taken care of and lifted off her shoulders. She recalled that following the massacre, President Bharrat Jagdeo had asked her what assistance, he could render and she had requested help in paying off the loan. That has not happened and she is disappointed. "Is not that I went and ask him, he called me…I tell myself as long as you get that clear off, at least life can be a little easier," she recounted.
The woman said that she was never contacted and recently she called the Office of the President and spoke to a person, who gave his name as Budhu and said he was a presidential assistant. She said she was advised to write a letter and she did and is waiting for a response. She is grateful however, for the fact that, after the massacre, the Bartica Regatta Committee and the Platinum Inn held a concert to raise funds to help those affected and the Anglican Church and close friends also assisted.
But the memories remain. Gilkes says that her four-year-old daughter talks about her father and misses him. The memories make her a little fearful too. She stated that when she sees soldiers and policemen, her heart sometimes skips a beat noting that she feels this way because the gunmen invaded even though the police were there, "they came and just upturn our peace".
The woman says that she is not sure who committed the act and while it has been said that some have been captured, she is not sure if all have been. She stated that she trusts in God and this is keeping her strong. Whenever she is reminded of the event, she says the memories return afresh and her eyes fill with tears and her heart beats faster… "is just hard".
She is thankful to everyone who has assisted her and hopes that there is peace in Guyana, noting that some are still living in fear. She counts herself among them.
Raymond White

Raymond White was going home after working for a week in the river but it would be months before he got there, after narrowly escaping death, having been shot several times.
Recounting the incident, White, who was a boat captain, said that he had just returned from Devil's Hole, where he worked. He stated that Dexter Adrian, who was a friend and neighbour, had picked him up at the beach and told him that he had to get some gas. White recalled that he told the man that he had heard about some shooting and was told "to keep a cool head" and they drove to the "boat house" on First Avenue, to get the gas. As they turned down the street, into First Avenue, bullets flew at them from the CB&R Mining Company building, where Ferreira, who was a guard there, was killed. White was in the backseat and said that he did not see the gunmen, and as he heard the gunshots he put his hands on his head and squeezed down between the seats. "They just spraying the car", he stated adding that he then fainted.
When he regained consciousness, he said, he began urging Adrian to drive off not realizing that the driver was already dead. He said that he was hit but at the time, didn't know it. His injuries included two bullets in his left arm, several which grazed his right arm and both his legs and flakes got in his eyes. He said he fainted again and didn't know what happened afterwards.
He regained consciousness when three youngsters removed him from the car and took him to the hospital on a bicycle. He asserted that if they had not come he would have died. Though, he was in and out of consciousness, he said that it was about 30 minutes before he was taken to the hospital.
A few hours later he was transferred to the Georgetown Public Hospital (GPH), where he spent two months, unable to even bathe himself. He said he did not know that Adrian had died until the following weekend, when someone went to the hospital and asked if he knew.
For him, the scars run deep. Now, his right hand is numb, he cannot do anything with the left one and cannot see well out of the left eye. He walks with a pronounced limp and said that both of his feet are numb and this feeling is intensified when it rains. He said he has not worked since because he is unable to. "You can't really tek it on, if you study and tek it on, you gon trip out," he says.
Any trip is limited and White mostly stays at home whenever he is in Bartica. He has a son who goes to the Bartica Secondary School and says that he is lucky that his mother is a vendor there. Life has changed, he noted, pointing out that he has stopped drinking and smoking and is dependent on his wife.  He said some friends sometimes give him a few dollars but life is a lot harder as his house loan has to be repaid and there are other bills.
His regular trips to the GPH – 12 since he was discharged – are frustrating as surgery that he is supposed to undergo to fix the shattered bones in his arm has not yet materialized. "Every time I go they just turning me off again and again," he stated. He also goes to see an eye specialist.  The man said that finding money to make the trips is a problem. According to White, the surgery that he has to undergo involves taking bone from his foot to put in his arm.
He said that he did not know who was involved in the shootings that night and is uncertain whether all involved have been captured. The man said that he didn't even want to return home, though he says he feels safer in Bartica now and thinks that the police would be able to respond more effectively now. He says squibs (firecrackers) make him wary and uneasy.
As he thinks about the incident, faith is what pulls him through. "I want my hand fix, and my eye fix and I gon get a job somewhere," he said. He said that since the incident he had not received any help from anyone though he is in need of assistance.
Melrose Allicock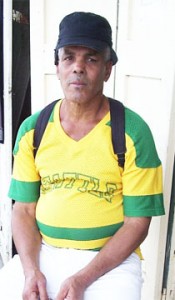 Melrose Allicock's friend, Edwin Gilkes died and he was lucky to escape alive but scarred. Like White, he had returned to Bartica on February 17 last year, and gone to buy bread not knowing that within minutes his life would forever be changed. Around 9:10 that night, he stopped to chat with Gilkes.
Several minutes later, he said, he looked around and saw an "orderly line" of men "dressed like soldiers" close to the Bartica Police station, near the Inquiries section. He said the men numbered "about 30" and they were wearing different types of camouflage type clothing. He said he thought there were about 30 of them after he glanced at the line but noted that they could have been less "but it could have been even more".
The man, who makes his living as a cobbler now, said that given their apparel, he thought the men were soldiers and though he had never seen so many soldiers in the community before, he had no cause to be apprehensive. He said that he did not notice any guns and a few minutes elapsed before a single gunshot signalled the start of the carnage.
Allicock stated that at the time, Gilkes was eating while he was standing close to the door to the security hut looking towards the street. As the gunfire began he looked at the police station. "When I look across, I didn't see anybody outside… these men like they just disappear," he said.
Allicock recalled that he could not see anybody clearly and so he decided not to go out in the street. He recounted that the gunfire did not stop and suddenly Gilkes shouted, "I dead! I dead!". He said when he looked at his friend he saw a hole and blood at his waistline and side. Gilkes got down on the floor and Allicock got down on the floor too and as the gunfire continued, Gilkes began calling for water and his cellular phone started ringing. Allicock recounted that his head was inside the guard hut but Gilkes' head was outside and the rapid gunfire kept them lying on the floor.
After about 15 minutes, Allicock said, he felt a "burning" in his left heel as more bullets flew towards the buildings, where they were. He had been shot. As the heavy and rapid gunfire continued, Gilkes bled profusely.
Allicock said within a few minutes, he noticed that the police land cruiser was parked outside the station and heard as it was driven up First Avenue. He stated that as it left, he heard gunfire farther up the road. An unarmed policeman was in a store compound next to the police station and he went over to the Banks DIH building, where Allicock and Gilkes were and went to the back.
Allicock recalled listening to the sound of people moving, heard footsteps approaching and suspected that the gunmen were going to check on them. He said he stopped breathing and lay still "like I already pass out" and the person stopped over him for about 30 seconds before moving away. During this time, he said, he recalled portions of scripture.
Allicock said that several minutes later, someone approached stating that he was there to help and asked whether he was okay. A car came and was reversing when more shots being directed to the building were heard and it drove off. Ten minutes later, Allicock said, two men drove up in a car and said they were prison officials and had come to help. Gilkes was placed in the trunk of the car and taken to the Bartica Hospital. He could not get up and was not responding to questions, Allicock recounted, noting that his friend died around midnight at the hospital.
Allicock said that the incident lasted for a little over an hour. When he reached the hospital, amidst the pain, groans and screams of the wounded, he was placed on a bed and given saline. He recalled that there were three police ranks in the same ward. He had been shot in the left heel and a bullet grazed his right foot.
The wounded man said that at around midnight, about six soldiers arrived at the hospital by boat and he heard as they made arrangements for an aircraft to come to Baganara to evacuate those seriously wounded. He said he was afraid that the gunmen would have come to the hospital and recalled that it was around 6 am that he saw a police vehicle enter the hospital compound with "bodies piled up high".
Because his wounds were not as serious as some of the others, it was not until after midday that he reached the GPH where he underwent an x-ray and had his wounds further dressed. Allicock was not admitted to the hospital and it was a month before he was able to walk again.
Noting that he had known Gilkes since childhood, he stated that he had wanted to attend his funeral but was unable to stand. He stayed with relatives on the East Coast Demerara and when he returned to Bartica, he was told to go to the station to give a statement about the incident.
He said that three weeks prior to the attack, there was talk in the community that the man blamed for the attack, Rondell 'Fineman' Rawlins, who has since been killed, was coming to Bartica, allegedly because his girlfriend was seen on a beach there.
The incident has made him uneasy and even now firecrackers can get him a bit scared. "Sometimes I does remember but I don't feel as frightened as before," Allicock said.  At times he experiences difficulty in walking and standing for long periods and he has to avoid lifting heavy loads. He said that because of the injury he had to put aside a prospecting licence and now makes a living as a cobbler, which "doesn't really pay".
The man said he believes that more members of the gang are still around. "I got a feeling that more than half of them might be at large". He recalled that while he did not get a good look at them, a lot of them appeared to be young and short in stature. He said that the increased security presence in the community eased some of the tension but full confidence was still lacking though he pointed out that at least "the former complacency" is not obvious any longer and there is vigilance.
Asked his opinion on the Rawlins gang involvement, he stated that up to now it is "speculation" and some people are not satisfied. He said the motive still puzzles but robbery seemed to be a part of it. "I don't know if that was all…lingering doubts still remain," said Allicock. He said that among the questions which remain is how the gunmen were able to get to Bartica undetected. He stated that in his conversations with residents, sometimes the incident or aspects of it would be brought up.
Allicock declared that he wants the police to keep checking and try to keep an eye on travellers. He asserted that since the two massacres he has noticed that there were some desertions from the army but he doesn't know if that was a contributing cause.
"I don't feel entirely safe," he stated. He stated that the memories crop up ever so often and when they're gone from his mind, the ache in his foot is a reminder. At times, he said, it seems as though the incident was not real but he has come to grips with it.
Norma Valentine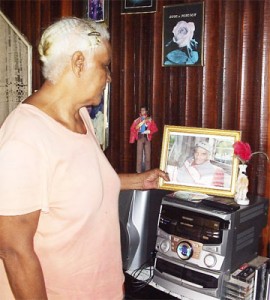 A photograph of Irving Ferreira occupies a prominent place in the Ferreira home as he once did in their lives.
After their 41 years together, his widow, Norma Valentine says that though she still thinks of the incident there is a time for moving forward. "I am getting on…I put that behind me. I got to go forward now. You cannot forget but you have to move on," the woman, who turns 72 later this month, said. Ferreira was working at his job as a security guard at the CB&R Mining Company when he was killed, shot in the head by the gunmen.


Valentine says that she most remembers her husband's quiet nature though he could be very jovial and related that their children at times, sit and laugh as they reminisce about him. "They remember all the nice things he had to say," she said recalling that her husband usually had people laughing.
On the night that he died, Ferreira called her three times. She was in Georgetown taking care of her daughter at the time. Though she has accepted his death, "it happened, I couldn't do anything", the manner in which he died has shaken her. "I feel terrible because I never expected that," Valentine said.  She points out that the community was supportive.
The question of who committed the act still lingers and given the many things said about the Rawlins gang, Valentine said she does not know what to think anymore. She said she is pleased that some of the persons, believed to have participated in the massacre were caught but does not know if everyone was caught.
However, it is not something that she dwells on. She is of the view that some of the men didn't know what they were doing and some are still alive. She says that she hopes those alive would change their ways. "I hope God forgives them because is a lot of homes they put in worries," she said.
She asserted that she has never felt unsafe in Bartica and believes that the government and security services are "trying" further adding that the police and soldiers are doing what they have to do. If the police could capture the men, they should, she stated. The house that she and Ferreira were building has been completed and life goes on though the memories are always there and at times residents bring up the issue. "I'm alright…I'm at peace," she says.
Since the incident, there are changes have occurred in the community. There is a Joint Services presence now and the police station is surrounded by a fence. However, in recent days, as the anniversary of the massacre looms there has been an increase in robberies in the community, some involving guns and many have expressed concern.
Shane Fredericks


At the Herstelling, East Bank Demerara home of the late police lance corporal Shane Fredericks last week, his reputed wife Indira, said it is difficult to cope with every-day life as memories of her husband, with whom she had lived for ten years, are fresh.
She said her husband had joined the Guyana Police Force at the age of 17 and served the force for another 17 years until the time of his death. According to her, he had been stationed at the Bartica Police Station for approximately five years and whenever he had an opportunity he would return home to spend time with her and their five-year-old son Mark.
Recalling the day of the incident, Indira said she and her husband had a normal telephone conversation which was cut short when his cellular phone credit ran out. She said he had promised to call her back but he never got the chance to. In tears, she said she subsequently received a call from someone at Bartica who informed her of her husband's brutal death .The sudden shock sent her tumbling down the stairs resulting in her having to seek medical attention.
She said he had spent the week prior to his death at home since he had promised to spend Valentine's Day with her. Since the incident, she said, she has experienced numerous sleepless nights and her future looks bleak since her husband was the sole breadwinner of the family. She said she recently started a cosmetology class to learn a skill.
Indira pays a monthly rent and was receiving financial assistance from her parents but her father has since fallen ill and as such they cannot assist her any longer.
The Guyana Police Force had provided her with financial assistance but she said while she was thankful for the gesture, the money was "nothing much" since it had to be shared between her and her husband's parents.
Indira recently received the transport for a plot of land in the Diamond Housing Scheme, which was provided by the government but building a house now is "all a dream".
In tears, she said she approached the Ministry of Human Services and Social Security to have an audience with Minister Priya Manickchand but on every visit she is told the minister is not there. She is appealing to the government for assistance since she emphasized her husband was killed in the line of duty.
Meanwhile, a neighbour remembers the police officer as an easy-going individual who dedicated most of his time to his family and his job. The neighbour said his death has deeply affected his family especially his son who constantly asks for his father.
Ron Osborne


Constable 19886 Ron Osborne is remembered as having had a cool and calm character and always willing to assist others. According to his cousin Joylyn Chase, Osborne had displayed an interest in joining the police force since in his early teens. She said he joined the force as a 16-year old after relocating to Georgetown from his place of birth, Kamarang. He was 22 years old at the time of his death and was the second of four children.
His cousin related that the policeman had only been stationed at Bartica for about five months after being transferred from the Orinduik Police Station. She said his mother is a medex based at Kamarang and her son last spoke to her early in the week prior to his death. He had promised to call her again the following Monday.
The cousin said her aunt is a strong person and since her son's death, she has "placed her faith in God and prays that justice will prevail".
According to Chase, her cousin and his brothers stayed at her Robb Street home whenever they travelled to Georgetown. She recalled that on the Friday before the incident, Osborne and his brothers attended a birthday party for one of their friends in the city. She said she noticed that Osborne was strangely very quiet and only muttered a few words when asked what was bothering him. She said he left Georgetown for Bartica the following morning without saying much to her and his brothers.
On that Sunday evening while watching the Stanford 20/20 cricket match between Guyana and Antigua, Chase said, she noticed a bulletin on the television about an attack at Bartica. She said the family immediately became worried and their worst fears were confirmed later that evening when they received news of her cousin's death. Osborne was buried at Kamarang with several government officers, including Minister within the Ministry of Education, Dr Desrey Fox who was his aunt, in attendance. The minister was very close to her nephew, according to Chase.
The family has since received assistance from the Ministry of Home Affairs as well as other government agencies.
Baldeo Singh


Meanwhile, at the Montrose, East Coast Demerara home of Baldeo Singh, relatives recalled him as a very quiet person who was always willing to lend a helping hand when called upon. His daughter Rookmini related that she grew up with her father, since her parents were separated. She said he divided his time between her, his elder brother Sukdeo and his sister since they all lived in the same village.
She said her father, who was 54 at the time of his death, once did carpentry but started working as a seaman since that profession was more to his liking. Recalling the days prior to the incident, Rookmini said her father was under the employ of Abdool Yaseen Jr, who was also killed in the massacre. She said he had prepared to travel to Bartica four days before the incident but only told his relatives where he was headed while leaving home.
According to her, a notice on the television alerted her to the developments at Bartica and her thoughts were immediately drawn to her father. The following day, she received a call from a friend and was told to visit the funeral parlour to identify her father's remains. She said she misses her father a lot since he spent a lot of time with her family, especially her daughter. She said because of his humility, she is more inspired to move on with life and to achieve her goals.
Baldeo's elder brother Sukdeo, said his brother was a central figure around his household .He said his brother was always supportive of him and was the second sibling to die in such a manner; another brother was killed in Cummings Lodge a few years ago.
He said he believed the crime rate has slightly subsided and he felt "a little at ease" with this development.
The government has since provided Rookmini with a plot of land which, ironically, according to her, is located at Grassfield, Lusignan, the community which was the scene of a similar brutal attack the month before her father was murdered. Additionally, she is being assisted by the Rural Women's Network (RWN). This group provides financial assistance to women in rural areas who are desirous of starting a business and initially monitors their performance thereafter leaving them to sustain themselves when they are able to do so. The RWU was approached by the government to assist the relatives of the Bartica massacre victims. The Bartica project is being funded by the United Nations Development Programme (UNDP).
Abdool Yasseen Jr


At the home of Abdool Yasseen Jr, his mother has photographs of him on display in the family's living room and she remembers him as a "jovial young man who displayed boyish traits", which she said, was characteristic of him. She said her son was the second of her four children and he took over the role of his father, who passed away in 2007. An elder brother lives overseas and his mother says he misses his brother a lot since they spent a lot of time talking on the telephone. She said Abdool had only graduated from the University of Guyana in 2007 after completing studies in business management. She said he was well loved by his relatives and friends and he took a special interest in taking care of his aging grandmother.
According to his grandmother, who was present during SN's visit, her grandson would lift her whenever she wanted to move around the house. She added that he would even fetch her home from the corner after she disembarked from a minibus.
Recalling an unusual incident, his mother related that Abdool and his  sister visited the homes of the victims of the Lusignan  massacre a few hours after that incident, as it had occurred a short distance away from their home. She said the visit had a noticeable moving effect on her daughter since she became restless and Abdool tried to counsel her as a result. She said he had told his sister "everyone has to die some day". After he was killed, his sister was deeply affected since they belong to a closely-knit family.
According to his mother, Abdool was contracted by Banks DIH Ltd to transport aerated beverages from Georgetown to Bartica. She said he had travelled to Bartica a few days before his death along with his employees Baldeo Singh and Ashraf Ally, all victims of the attack.
She recalled that on that dreadful evening, he had called her around 9:30 to find out if all was well at home. She later retired to bed but was awakened around 1 am the following day when relatives of Ashraf Ally informed her of a shooting at Bartica.
She said she later learnt that her son was killed, though a few relatives and friends were reluctant to inform her of his demise. She said, however, being the strong person that she is, she travelled to Bartica at daylight that day but his body had already been transported to Georgetown.
The woman, who has been a minibus driver for over 15 years, says she is "strong in mind and in spirit and everything happens for a reason". She said she now has to continue working hard since she has to now take care of her daughter who is attending the University of Guyana; she had taken study leave to cope with her brother's death.
The family held a memorial service according to Muslim rites in honour of Abdool Yasseen Jr. and his father yesterday.
Around the Web