Bandits broke into a store at Cotton Tree Village, West Berbice around 3 am yesterday and stole over $300,000 in cash, phone cards and cycle parts, leaving behind a bag containing a cutting torch and house-breaking implements.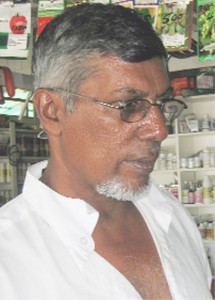 Owner of the store, Zalim Khan told Stabroek News yesterday that the bandits escaped after he fired a shot in their direction "to scare them off." Police also recovered a bicycle at the scene that the bandits reportedly stole from another person and a pair of sneakers in a bag.
The man's wife, Ameena told this newspaper that the bandits gained entry to the building by breaking a kitchen window and removing a few metal bars. They then opened the door leading to the store where the items were removed.
She said it appeared that the men had been in the house for a long time because they also helped themselves to a bottle of orange juice and snacks.
When this newspaper visited yesterday, cycle parts were still scattered on the ground close to the window through which the men escaped.
Fingerprints were also visible on the half-finished bottle of juice and on the window.
Khan, his wife and two other occupants of the house were sleeping in the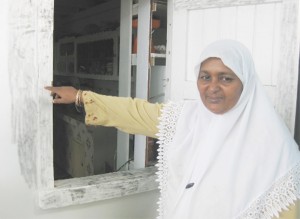 upper flat when they heard "tumbling."
With his licensed gun in hand he said he immediately peered out into the front and sides of the yard but did not see anyone. He then looked out of a window at the back of the house just in time to see a man escaping.
Khan said he waited for about two minutes in case the man came back and saw him returning. The man must have seen the curtain pull and made an about-turn. At this stage, Khan fired the shot.
He later learnt from the neighbours that three men were seen running down the dam after the shot was fired.
Half an hour after the bandits fled he went down to examine the place and saw that the entire bottom flat was ransacked.
He summoned the police from the Blairmont Station and they responded promptly and took statements.
Fingerprint experts, he said, also visited the scene and conducted investigations.
Around the Web