-offers free classes to neighbourhood children
The privately run School of the Nations began the new school year this week with the opening of its new campus at the New Market Street, Tiger Bay complex that formerly housed the Woodbine Hotel.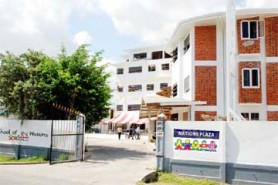 Following several months of renovations, the school on Monday opened its new location, where it will also be offering free after-school classes to children living in the immediate area.
According to a press release issued by the school, classes would be offered twice per week to children aged 11 to 14, living in the immediate area. The release quotes Director Dr Brian O'Toole as saying that the school sees the age group as very important and that it is during those years the child leaves childhood behind and undergoes profound transformation. The classes will be held on Tuesdays and Thursdays between the hours of 3:30 and 4:30 and will focus on extra help in the areas of reading, mathematics, science and reasoning and comprehension skills. Focus will also be placed on arts, sports and promotion of the analytical thinking along with practical work in service and environmental projects.
According to the release, the school, during its regular hours, offers a comprehensive list of services including nursery, primary and secondary classes. The sixth form is said to have 140 students pursuing 18 different Advanced Level subjects from the University of Cambridge (UK). The school also has an agreement with the University of London whereby local students can earn a University of London degree without leaving Guyana. The degrees are offered in Business, Econo-mics, Accounting, Business Administration, Banking and Finance, Information Systems and Management, Inter-national Relations, Manage-ment and Sociology.
Meanwhile, those parents who are interested in their children being part of the free classes can attend an introductory meeting next Thursday at 5 pm at the school's new location. More information can also be provided at the following telephone numbers: 226-5781, 628-4533, 225-4211, 227-4623 or 227-0657.
Around the Web