Students of the Golden Grove Secondary School yesterday returned to school, but not to class as they took their grievances about the physical condition of their institution to the picket-line.
They were joined by their parents and guardians in chanting slogans and holding placards that told a story of the dreadful conditions at the decades-old wooden structure.
When Stabroek News arrived at the school yesterday, scores of parents and students were in the yard chanting and holding up placards which read: "No Desk, No School," "No Water, No School," and "We want a new School," among others.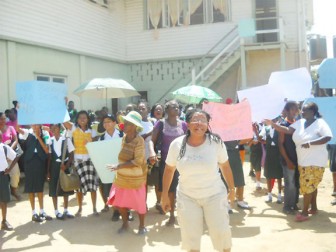 Ministry of Education officials could not be contacted for comment.
Parent, Desiree Taylor, said: "My child is here for the first term. They took $2,000 registration fee and here it is no desk or bench to sit on; no water nothing. I'm taking her back home. I will not accept this. If these things are not in place, no school." She added that it seemed the school was better run by a person of unsound mind who some time back had appointed himself a Ministry of Education official and for two weeks acted in this capacity.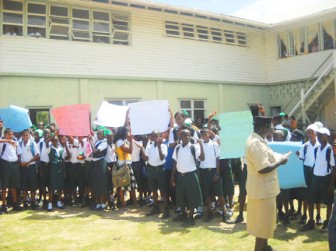 Another parent, Abiola Andrews, said: "De school in no condition. Upstairs, if de girls using de toilet de boys could peep dem. When rain fall my child has to sit with an umbrella open. This is a dry weather school. When I in meeting, de floor rocking with me. Look at my size, you ain't see they want I fall through and must be dead. This is a cow pen school."
The complaints continued as other parents were interviewed. David Gentle, who has two children attending the school said, "This school gone to the dogs. Oh my God, look exposed wires, a leaking roof vines growing all over the school. What is this?" He said he wanted to see the ministry rebuild the school since the cost of repairs would be the equivalent to building a new school given its current state. He pointed to a classroom where a few children were seated on dilapidated furniture and a class where a teacher, using a desk as a chair, was preparing her attendance register. The teacher declined comment.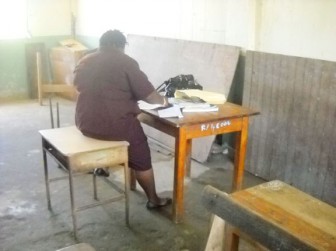 The Home Economics Department of the school when checked was
also in chaos. A form four student of the school explained that there was no running water to the department. While, she added, there were some equipment "it is nothing to boast about". Her classmate added that she and others try to get to school early although they have to sit three in a bench. If they were late, she explained, they would be forced to stand for the duration of the school day.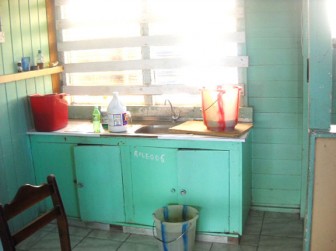 In addition, for the Caribbean Secondary Education Certificate examination in June, school officials had to borrow furniture from the neighbouring primary school. One parent said, "de people tek it back and dem right we want we own thing".
A senior official of the school, who requested anonymity, said this was not the beginning of woes for the school. She said Ministry of Education officials hardly ever visit. "Last time a mad man ran this school for two weeks. This happened because Ministry of Education officials do not communicate with us. It seems we are behind God's back. Only when the story broke they came in and there was one hulaboo. I came to this school and many scholars came out of this school. I have my bills to pay too, that's why I stay or else I would just stay home."
The parents are calling on government and ministry officials to address the matter urgently. This said if this was not done in a timely fashion, they would have no alternative but to bar entry to the compound.
The police were called in to remove the protestors. However, no one was arrested although they refused to comply. They added they were prepared to deal with law enforcement officials in the future should they be called in to remove them.
Around the Web